Diamond Select's fourth set of The Walking Dead Minimates based on the comic book are almost ready to rise form their graves and shuffle into comic and specialty stores.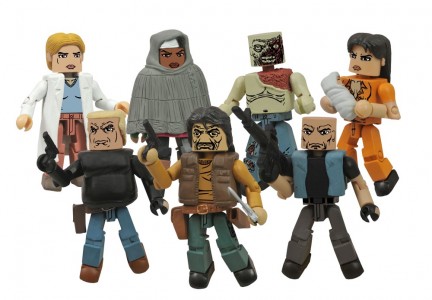 Series 4 is a strong set, with some of the most memorable characters from the comics' version of the 'prison' storyline that's currently playing out in the fan favorite TV series.
Walking Dead Minimates Series 4 re-unites the Governor and his lieutenants with some of the people who hated him the most. The Governor himself comes in a two-pack with his lieutenant Gabe, with whom he stormed the gates of the prison. Michonne, the woman who received the worst of the Governor's brutality, comes with his accomplice Bruce, as well as a new poncho accessory. Rick's wife Lori (with baby Judith) comes with a partially flayed Shoulder Zombie, and a variant of that set will replace Lori with the prison doctor and Woodbury defector, Alice.
Look for The Walking Dead Minimates series 4 to hit stores this Summer from Diamond Select Toys.