Become Daud, the man who struck down the Empress and kicked off the original Dishonored storyline.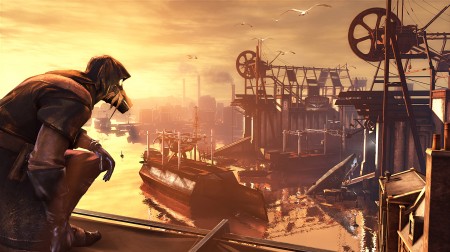 'The Knife of Dunwall'  expansion pack adds new weapons, abilities, gadgets and allies to the world of Arkane Studios' supernatural action/adventure. Maybe more importantly though, it adds a brand new single player tale to the game where you play as the man responsible for all the mayhem in one of last year's best games.
In The Knife of Dunwall you take on the role of Daud, the legendary assassin who killed the Empress, and access his weapons, gadgets, allies and supernatural abilities. After assassinating the Empress, and forever changing the fate of Dunwall, you embark on a search for redemption. The Outsider reveals the key to your atonement, but who—or what—is Delilah? Accompanied by the Whalers, your loyal band of mercenary assassins, your search will take you through never-before-seen districts of Dunwall as you face off against new and terrible foes. Employ a unique arsenal of new weapons and powers that enhance Dishonored's dynamic combat, mobility and stealth systems. In the struggle to hang onto the last shred of your humanity, the choices you make will ultimately determine your fate.
The hunt for redemption begins today as The Knife of Dunwall is available now on Xbox Live, the PSN and Steam for 800mspts and $9.99 respectively.