Going to Chicago's C2E2 next weekend? Diamond will in full force at the show.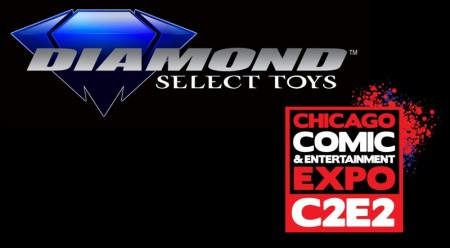 The Chicago Comic and Entertainment Expo is the biggest yearly show in Chicago and one of the biggest comic book and pop culture cons in the US. If you need proof as to just how big the show has gotten, look no further than DST's schedule. Diamond Select Toys is fresh from their NYCC display this past October and on their way to SDCC in July, but in the meantime you better believe they'll be at C2E2 with all the awesome stuff you'd expect in tow.
Expect panels, a booth on the show floor, and some nice little freebies:
At booth #603, DST will have all (well, most) of their upcoming products on display, so you can check them out in person before they reach the stores. They'll also be giving away free posters, and selling selected items in the company store. Spend $18 and you can build your own Minimate at the Build-a-Minimate station! (Station open after 1:00 each day.)
Not too far away, at booth #1509, you can check out the Minimates Museum, an exhibit of Minimates past and present celebrating the 10th anniversary of the Marvel Minimates line. The exhibit will be open during show hours, so stop by, pick up a program and take a trip through mini-history, from Lord of the Rings to The Expendables, and everything in between!
And on Saturday, at 12:15 pm, in Room W470a, DST Marketing Supervisor Zach Oat will talk Minimates with anyone who will listen. He'll unveil never-before-seen artwork, debut some never-before-seen product and answer some never-before-asked questions! Plus, he'll give away a prize at the end to one lucky attendee!
If you're going, don't miss what DST has on display. The company has been quietly producing some of the best comic book, movie, and sci-fi collectables out there for years now and their lineup for this year has so far been spectacular. I can;t wait to see what they've got up their sleeves to unveil!
C2E2 is April 26th through the 28th this year and promises to be an awesome time- just in case you missed it, DST will be at booth #603 with the Minimate Museum (which'll definitely be worth checking out) at booth #1509.