Marvel comics and comiXology announced the return of the Marvel #1 promotion today. Sign up now and bulk up your digital collection with 700 free classics, but you might want to hurry…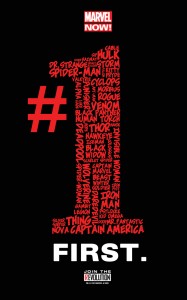 Yes, Marvel #1 is back- but for a very limited time. You can sign up to grab 700 first issues of Marvel Comics' finest until tomorrow (April 9th) at 11:59pm Eastern Time. The signup process only takes a second and you'll get a heaping helping of awesome books for free in return.
I'm going to go ahead and assume that the signup's are a result of comiXology's servers getting hammered the last time Marvel offered this deal during the SXSW gaming and pop culture event last month. While it might be viewed as a hassle by some, I think it's a solid way to keep everything flowing and *most importantly* keep the digital download service online for those who want in.
Click here to check out the promo in full and sign up for the free goodies. Marvel Comics' digital offerings can be read on the Marvel App itself or on comiXology's platform (they're both powered by comiXology) on the full range of iOS devices and Android as well as on the net at the Marvel Digital Comics Shop.
Happy reading!