Gears of War Judgement launches this coming week for the Xbox 360 and Brutal Gamer is celebrating the latest release in the epic shooter series with an epic giveaway.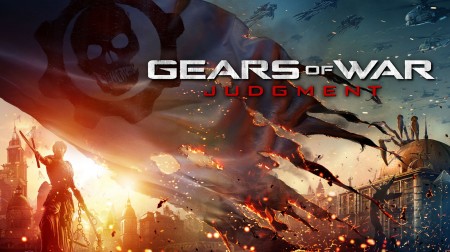 Fan favorite character Damon Baird gets his first starring role in a Gears game with Epic Games' Gears of War Judgement. This prequel story tells the tale of what happened just after the long talked about 'Emergence Day'. E-Day is, of course, the day that the subterranean Locust broke through the planet Sera's surface and started their war of extermination against the human population of the planet.
Judgement is sure to be a grim tale loaded with Gears' signature action, Lancer duels aplenty, and that famous Baird wit. To celebrate launch week for the game, Brutal Gamer will be giving away a few choice prizes to three lucky winners.
So without further delay, here's what you can win this week soldiers:
One (1) 1st prize winner will be headed to the front lines to see where the Gears saga began with their very own copy of Gears of War Judgement, courtesy of your pals here at Brutal Gamer. But that's not all! We're also throwing in a 'Young Marcus' multiplayer character skin and a 'Lambent' Hammerburst skin so you can rack up some multiplayer wins in style.
One (1) 2nd prize winner will have to make some room on their wall as they'll be taking home a super-limited edition (only 1250 made) piece of artwork courtesy of our friends (and yours) at Project TriForce. TriForce only makes some of the coolest stuff available anywhere. This copy of 'The Trial of Baird' by Chris Perna of Epic Games that they've made available to you, our readers, was created as part of a commission for San Diego Comic Con 2012. It comes with a certificate of authenticity- and you better believe it's suitable for framing.
One (1) 3rd prize winner will grab a Brutal Gamer T-Shirt (now that's badass) and a 1600 point Xbox Live code so you can stock up on Gears (or whatever you like) downloads.
So what do you think hotshot? You have what it takes to tweet, like, and comment your way to the good stuff? Read up- here are your official rules for entry:
How to enter – Entering a Brutal Gamer contest is easy. Just 'like' us and comment on this news post on Facebook, follow us on Twitter @BrutalGamer and Tweet us with the phrase 'Brutal Gamer revs my Lancer', or comment on this post in the comments section (shocking!) below any time between now and the contest end date/time. You can enter as many times as you like, but only once per day per entry type (BG.com, Twitter, or Facebook, which totals a possible three entries per day). Any double entries made on the same day will be discarded (but your original entry will still stand).
Winners and contest details –
The Brutal Gamer Gears of War Judgement contest ends on March 23rd 2013 at 11:59pm Eastern standard time.
This contest is open to all readers in the continental United States.
One (1) prize per prize level is available to a total of one (1) grand prize winner, one (1) second prize winner and one (1) third prize winner. Copy of Gears of War Judgement and all downloadable 'items' given away are only playable and/or downloadable onto a North American Xbox 360 console.
All winners will be chosen at random starting at 1st prize and working down towards 3rd. All winners will be notified shortly after the contest officially closes on March 23rd 2013 at 11:59pm.
Good luck!