The Hobbit: An Unexpected Journey is all set for release this coming week on Blu Ray and DVD and to celebrate the occasion toy  maker The Bridge Direct will be giving away a dragon's hoard of Hobbit goodies.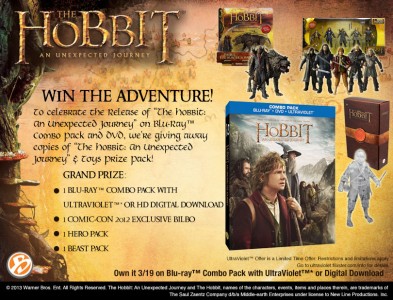 Not only can you win a copy of the movie itself, but there are some very cool Hobbit toys in this treasure chest too- including the 'you're not really going to find this at retail' SDCC exclusive Bilbo from last year's mega-con in San Diego.
Here's what the Grand Prize winner will walk out of Mordor with:
One The Hobbit: An Unexpected Journey Blu-ray combo pack with Ultraviolet or HD digital download
One 2012 Comic-Con International: San Diego exclusive Bilbo BagginsTM Figure: This intricately detailed transparent 6" scale figure of Bilbo Baggins presents the title character from The Hobbit: An Unexpected Journey in his "invisible" state while wearing the Ring, which he holds in his hand.
One 3.75" scale action figure Beast Pack: Every good villain needs a beast to ride into battle, and this 3.75″ scale action figure east pack has them both with Fimbul the Hunter and his Warg!
One 3.75" scale action figure Hero Pack: Join Bilbo, Thorin, Kili, Fili and Dwalin, with this special box set for the avid collector. The set includes 3-5 weapons/accessories for each figure for posing and battling action.
But that's not all- The Bridge Direct also promises that additional copies of the movie will be given away right after a winner has been chosen for the Grand Prize, so your chances just improved Middle-earthers.
Entry for the prize pack is going on right now and will last until the 19th. You can toss your pointy hat in the ring and check out the full rules by clicking here. As for the Blu Rays of The Hobbit that'll be given away, those are on the docket starting on the 20th (right after a winner is picked for the main contest) and will last through the 26th of this month.
Good luck young Hobbitses.