Nintendo's pulling out all the stops for the launch of the newest Pokemon title- Mystery Dungeon: Gates to Infinity. As in releasing a 3DS decked out to look like the most famous pocket monster of all.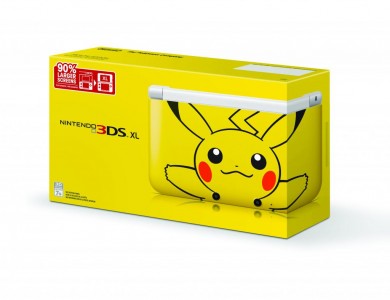 The brand new 3DS XL will come in bright yellow (just like the packaging) and be emblazoned with the visage of none other than Pikachu. A 4GB memory card will also be included in the box, but the game will be sold separately. Pokemon Mystery Dungeon: Gates to Infinity will be launching the same day as the console though, so you can grab the XL, the game, and Pokemon-away the afternoon.
While there's no pack-in game in with the console, Nintendo is offering a free downloadable title to anyone who licks up a 3DS XL (no, it doesn't have to be this one) and a copy of either Pokemon Mystery Dungeon: Gates to Infinity or Luigi's Mansion: Dark Moon between March 21st and April 30th.
The download is good if you make the necessary buys and then register said items with Nintendo in their Club Nintendo service during the time frame. Hit the marks and you'll be on the receiving end of either Super Mario 3D Land, Professor Layton and the Miracle Mask, Art Academy: Lessons for Everyone!, Star Fox 64 3D or Freakyforms Deluxe: Your Creations, Alive! – your choice.
As far as bonuses, that's a pretty nice one with some actual gems to pick from If you don't have a 3DS XL already, you might want to get on board.