Publisher Dark Horse Comics announced a first today at the Emerald City Comic Con today with the reveal of a new ongoing series in its Mass Effect line.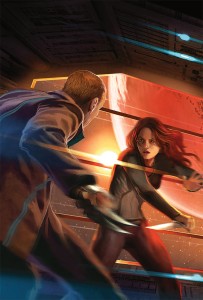 Details are super-light at the moment, but we do know that the comic is being penned by the lead writer of both the Mass Effect 2 and 3 video games, Mac Walters. The comic, titled Mass Effect: Foundation, will be tied directly into the upcoming Mass Effect: Citadel downloadable content for ME3.
According to Dark Horse, the fans of the Mass Effect universe "will find new characters tied directly to the newly announced Mass Effect 3: Citadel single-player DLC" in the pages of Foundation. So if you want a sneak peek of Foundation, and probably a pretty good gaming experience too, you might want to grab Citadel when it launches this week.
All three of the ME titles are critical darlings as well as fan favorites, a fact that has led to a series of limited run comics from Dark Horse. The new ongoing book is just further proof that even though the opening trilogy of games is complete, the sci-fi universe created by BioWare isn't going anywhere anytime soon.
Mass Effect: Citadel launches (as an add-on for Mass Effect 3) on March 5th from publisher EA and BioWare. The expansion pack promises an emotional experience and a proper sendoff for Commander Shepard and his/her crew. You can look for Mass Effect Foundation #1 to arrive on comic shop shelves on July 24th.