Update. Avast me hearties, Ubisoft will be raising the Black Flag in the next Assassin's Creed.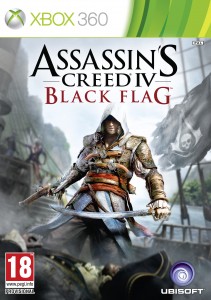 Update: Well, first things first- there's box art, but you probably already saw that. There's a confirmation too, but you probably already figured that based on the official box art. Finally, and probably most important for AC fans, Ubisoft will be revealing a lot more about the game (and a rumored PS Vita version) at a special event on Monday the 4th. So stay tuned hidden-blade enthusiasts.
It looks like the ship commanding bit from ACIII is going to see some pretty monstrous expansion if today's leaks are to be believed. And they probably should be since Kotaku, The Examiner and more have picked up on the story.
In a nutshell, Assassin's Creed IV: Black Flag will look to follow Connor's (ACIII's main character) grandfather Haytham Kenway. Kenway might very well be a full blown pirate and is definitely (from his style of dress anyway) an assassin. The Caribbean is the alleged setting for at least some of the game with Florida, Jamaica and Cuba all featuring in in some way or another.
It's interesting to see the series actually going back in time to before the events of ACIII with part four. That's definitely a deviation from the progression that we've seen so far and almost feels a little anticlimactic to me as a fan of the property.
Whatever the real story behind the game is, and if it's to be a next generation only affair or not, might just be revealed on March 4th. That's when Kotaku says Ubisoft will be releasing the embargo on news about the sea faring title.
Source: MCV