Artist Clayton Crain joins the already impressive lineup of talent on Valiant Comics' first big time crossover.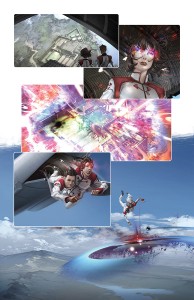 Harbinger Wars will spill over into the pages of Harbinger and Bloodshot as well as have a stand alone book to itself in mini-series form. The story pits 'Shot and the young heroes of the Renegades up against a brand new super-human threat.
Clayton Crain (X-Force, Carnage) joins the likes of Joshua Dysart, Duane Swierczynski, and Clayton Henry in bringing the story to life.
"Clayton Crain is a phenomenal talent and we're extraordinarily happy to have him joining Valiant for Harbinger Wars #1," said Valiant Executive Editor Warren Simons. "He will be handling a pivotal sequence introducing Generation Zero, the strike force controlled by Project Rising Spirit that inadvertently sets the Harbinger Wars in motion."
The 12 issue story arc will span Harbinger Wars numbers 1-4, which will be the meat and potatoes of the tale with jumping on points starting in Harbinger #11 and Bloodshot #10. Both of those books will have four issue runs with Harbinger Wars and supplement the main title. The whole event starts up in April and comes to a close with June's issues of all three comics.
And just in case you're under the delusion that this is going to be a cheery tale filled with flowers and happy thoughts, Valiant promises no winners in Harbinger Wars- only survivors.
Everything kicks off when Harbinger Wars #1, Bloodshot #10 and Harbinger #11 hit stands this April.