Kotobukiya put on quite a show at Toy Fair in NY this week. Star Wars, Marvel, and gaming properties were all on hand and awaiting addition to your trophy shelf.

I'm always impressed by the quality and scale that Koto works on.
Their Star Wars work stands as some of the strongest to carry the name and their Marvel and DC stuff (which you might be less familiar with) is head and shoulders some of the best on the market.
As far as Marvel, this year the company showed off a fantastic Venom companion piece to their Spider-Man that was released last year. The two statues don't 'fit' together per say, but they're definitely meant to be shown and displayed as a pair from their matching bases and complimentary (if you want to call it that) poses.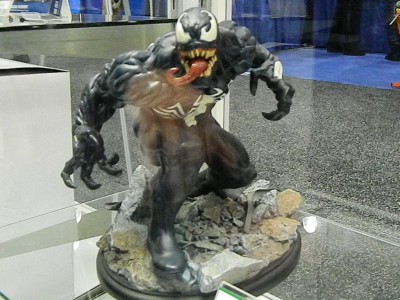 Also knocking my socks clean off this year was the Incredible Hulk statue. This meaty piece was absolutely huge and had a powerful (not to mention heavy) feel to it. And the kick? A Koto rep tells me that it may actually get even bigger if the company feels the jade giant doesn't stand tall enough against their Thor piece. Now that's awesome.

Rounding out the Marvel offerings on display was an excellent Cyclops statue clad in his Jim Lee 90s era costume (yay!) and a sharp looking pair of Iron Man pieces form the upcoming Iron Man 3. In addition to what was on display, Koto also will be releasing a War Machine and Iron Patriot, also from the upcoming film.
There's also an Avengers line in the works which was not shown- that's mainly because it's still in the art stage.  Though it's a ways off, it already is looking very cool as it's basically a Marvel version of the company's already great Justice League set.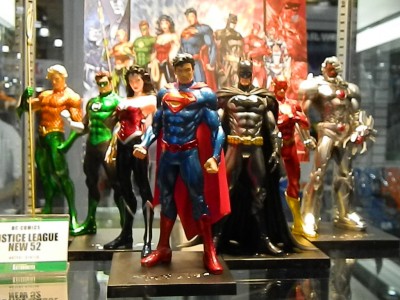 Superman and Green Lantern are already available in that set and the rest are all scheduled to be popping out of their respective Boom Tubes throughout the year.
The Star Wars that was on display was pretty awesome as well with a Darth Vader dubbed 'The Return of Anakin Skywalker', a troop of the company's excellent Stormtrooper statues, and a pair of gunslinging Mandalorians.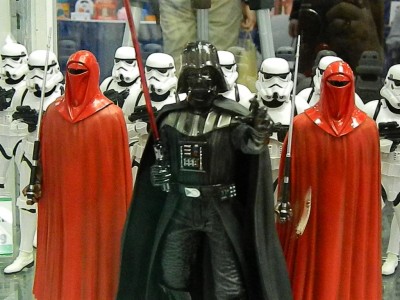 That's not all there was though, far from it. The pieces above are just what stood out to me, but for a more complete look (including an amazing Isaac Clarke from Dead Space 3), have a peek at the gallery below. Kotobukiya rarely disappoints and 2013 is looking to be another great year for the collectable and statue maker.
Oh, and yes. That is a Death Star ice (or chocolate) mold. Insert 'fully armed and operational' joke here.