With an image patterned after the classic cover of the original main Marvel Universe tale, Spider-Man No More comes to the Ultimate Universe version of the wall-crawler- Miles Morales.
The Ultimate version of Peter Parker rests in peace (not completely unlike in the regular Marvel U) and now it looks like the man who took up the mantle of Spidey may just have had it with slinging webs.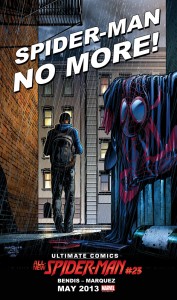 The story behind this image will leave readers in tears! What could possibly drive Miles Morales to abandon his role as Ultimate Comics Spider-Man? Find out this May, in Ultimate Comics Spider-Man #23!
I'm seriously loving that imagery. It's a great throwback updated to the modern look of Ultimate Spidey. In the classic story, old Pete didn't find that being Spider-Man was such an easy thing to give up, but will Miles?
Grab Ultimate Spider-Man #23 from Brian Michael Bendis and Dave Marquez when it hits stands this May to find out.