Breaking Bad action figures (along with the rest of Mezco's 2013 lineup) made an appearance at a special pre-Toy Fair event in Long Island City the other day. Fans should most definitely be happy with the first offerings.
Mezco's Breaking Bad Reveal And Toy Fair Preview
By John Charles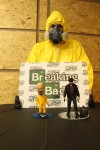 New York- Mezco Toyz invited the 50 reporters to their international world headquarters Tuesday for an exclusive preview of the items set to be revealed at Toy Fair next week. Located in a historic Long Island City building that was once a shirt factory and horse stable, Mezco's HQ  is a toy collector's dream. Life size arms reminiscent of those in Dracula's castle jut from the walls holding Living Dead Dolls, toys fill cool modern shelving units and ultra modern sofas beckon you towards a giant flat screen tv hooked to a PS3.
Dressed in a yellow bio-hazard suit and wearing a gas mask, Mezco's jolly Director Of Special Projects,  known as Drake, gave an overview of the products set to be revealed in 2013, then with a flourish opened the doors to Mezco's generously sized conference room and let everyone swarm in for photos and video.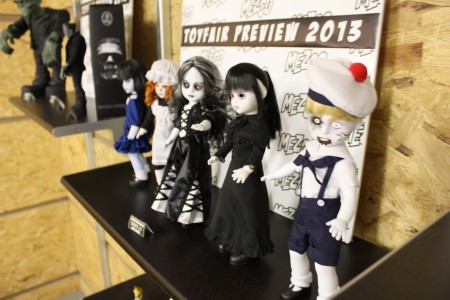 Mezco's offerings for 2013 are impressive. Their Universal Monster line continues with 9 inch tall stylized Creature from the Black Lagoon and Mummy . Dracula also joins the Living Dead Dolls with a figure that is simply adorable.
The Mez-Itz line of designer vinyl figures grows with the addition of Superman as seen in the upcoming

MAN OF STEEL film. Besides Superman, Mezco will be giving both Zod (he of "Kneel before") and Jor El.
In a surprise reveal, Mezco showed the figures and plush they have planned for AXE COP. Based on a webcomic that turned into a print comic that turned into a web based animation that turned into an animated TV show soon to be on Fox, Axe cop features some of the most outlandish characters ever seen. How outlandish? Well, besides the titular axe wielding cop, there is a t-rex with machine gun arms, an avocado unicorn, and soldiers made of poo. Mezco's Drake indicated that Mezco has a long history of producing poo based characters and with their Mr Hanky of South Park they have cornered the poo toy market. "No other toy company besides Mezco will be offering three separate poo based characters in 2013 " said Drake. Mezco will be producing both 3.75 inch figures and plush characters for the series.
Mezco's giant size 14inch tall ThunderCats line expands with Cheetara  who features ball jointed hips.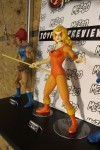 The Mars Attacks universe is also expanding with a 24inch tall Martian as well as an army of 3.75 inch all figures. Now Mars Attacks and GI Joe can exist in the same universe!

Perhaps the most popular area was the table displaying the Breaking Bad collectibles (Note: Mezco produced a special prop replica of Saul's advertising matchbook from Breaking Bad that is sure to end up on eBay. They are not for sale, but were produced exclusively for promotional use by Mezco). Mezco is producing ultra realistic figures of Walter White / Heisenberg with an impressive list of accessories. They are also making plush figures and an array of items like bobbleheads, money clips, and stash boxes.  This is sure to be one of the most sought after collectible lines of 2013 and I'm thrilled that Mezco has it. Drake also revealed that the prototypes would be donated to Astoria's Museum Of The Moving Image but had no information on when they might be displayed.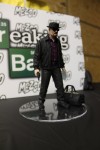 Mezco is also expanding its creepily cute line of plush animals called Creepy Cuddlers with giant size animals as well as a new zombie penguin and a werewolf cat.
The ever popular Living Dead Dolls line continues with Series 25, along with Scary Tales series 5, blind box mini figurines series 3, and Series 26.  The Scary Tales series is especially clever, putting a Silence Of The Lambs twist on Little Bo Peep and her lambs as well as making Miss Muffett a member of a gang called THE SPIDERS. The blind boxed mini figures are also excellent and continue to be some of my favorite blind box items when I shop at Forbidden Planet.
"Don't tell Mother," said Drake, "but PSYCHO will also be entering the world of the Living Dead Dolls with two delightfully chilling dolls". The dolls with depict both Norman/ Mother and Marion. Drake revealed that Mezco did extensive research to get the pattern of Mother's dress right; "Most people imagine one thing, but it's actually another" indicated Drake.
Mezco reps ended the tour by distributing their 2013 Toy Fair catalog , a limited number of which are available to the public right here.
Photos credit to John Charles