The makers of The Witcher take the wraps off their newest engine.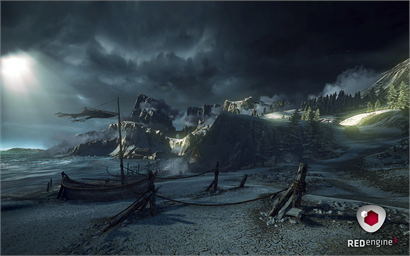 REDengine3, according to CD Projekt RED, was an engine developed with one thing in mind- join the open world 'sandbox' style RPG gameplay that's become so popular as of the last few years with the more traditional and tightly woven narratives that longtime genre fans are more used to.
"If we look at RPGs nowadays we find two approaches, one which emphasizes the story but limits the game world, and one that builds a vast, open world but hampers and simplifies the story. With the REDengine 3 we combine the positive aspects of both approaches for the first time, creating an open environment with a complex, multi-thread story. Together with believable characters, a captivating tale and a world where players can roam freely without loading times, we will be able to move gaming to a new level with a realistic feel and full player immersion. When working on our previous titles, I didn't dream that we would achieve something like this. Thanks to the support of all our fans, now we have the possibility to use REDengine 3 and create something many RPG fans dream of," said Adam Badowski, head of CD Projekt RED studio.
Personally, I get easily aggravated  by the open world approach. Meandering around and engaging in hundreds of side-quests is one thing, but kind of getting lost and forgetting about the main goal of the game is another. It's probably a bit of a pet peeve, but games like Fallout 3 always annoyed me for this reason.
If CD Project RED manages to actually combine the two styles into something that works (and is fun), they'll definitely have my attention… not that they don't already. The Wither games are, after all, two of the more refreshing RPG experiences in years and pretty successfully brought more mature storytelling to a genre that's filled with stereotypical characterization.
The first title that'll make use of the new REDengine3 will be the recently announced Cyberpunk 2077. The company says that they'll be looking to put the tech to good use as they craft a game that blends real-time play with cut scene looks and "makes RPGs comparable to top-shelf shooters, both in terms of game-world presentation and the epic proportions of events that the player is drawn into."
Sounds good to me guys… so when do we get to play it?