Capcom's formerly 3DS exclusive Evil will be hitting home consoles in a 'new and improved' form, third-dimension not  included.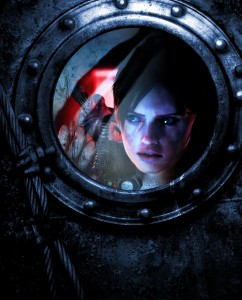 No, you won't have 3D effects in the inbound console version of Resident Evil Revelations, but you will have everything else and more.
One of the best Resident Evil titles to see release in recent years, Revelations is set between the events of the fourth and fifth numbered RE games. The title features original STARS members Chris Redfield and Jill Valentine in major roles and brings in more than a few fresh faces and new locations.
New to the console version will be a new enemy, extra difficulty mode, and 'improvements' to the game's Raid mode. There you can expect to find new weapons and skill sets as well as new playable characters including the fan favorite mercenary- Hunk.
The Raid Mode will also feature online co-op for blasting the soggy denizens of the Queen Zenobia cruise ship with a pal, no matter where you might be.
In addition to the new additions,  Revelations will also be bringing some bumped up visuals. That should be something to see considering that the 3DS version was already one of the best looking games on that platform and looked the equal of many console games already. Your ears will be in for a treat too as you can also expect to see (or hear as the case may be) a more "immersive sound experience" from the new version of the game.
Look for Resident Evil Revelations to hit the Xbox 360, PS3, Wii U, and PC (digitally) on May 21st in the US for $49.99 USD. Survival horror hits the high seas in Europe on the 24th.
Revelations will also be available from day one as a digital download on both the PC and PS3. Xbox 360 and Wii U downloadable versions are also in the works and should arrive soon afterwards.