A second special edition of Warner Brothers and NetherRealm Studios' upcoming DC Comics brawler is on the way. Instead of collectables, this one's packing a limited edition fight stick and some DLC.
Update: Forget that Wii U version we told you about.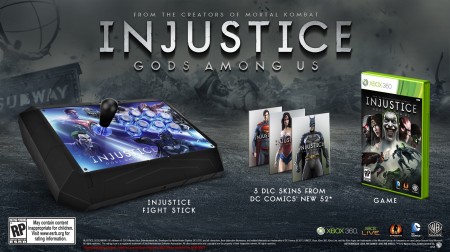 Of course, choosy fans of fighting games have always gravitated towards the more arcade accurate joystick for their console one on one experiences over a controller. The Injustice: Gods Among Us Battle Edition doesn't aim to disappoint them in that regard.
The Battle Edition (just announced today) will include a copy of the game (kind of need that), the fight stick, and a set of three new downloadable outfits from the DC Comics universal semi-reboot the New 52.
The Injustice: Gods Among Us Battle Edition will retail for $149.99 and includes the game disc, exclusive Injustice: Gods Among Us Fight Stick featuring official artwork from the game and three exclusive skins based on Batman, Superman and Wonder Woman from DC COMICS – THE NEW 52. The Fight Stick is a lightweight controller that boasts a non-skid foam underside, a lockout feature for the Start, Select and Guide buttons, as well as adjustable illumination for the buttons and joystick.
The Injustice: Gods Among Us Battle Edition will be on store shelves right along with the standard and Collector's Editions of the game on April 16th and will be available for the Xbox 360 and PS3. Despite the word earlier today, there will be no Wii U version of the Battle Edition of the game.