The results of last Fall's fan survey are in and the special features are all set for Deep Silver and Techland's upcoming Dead Island sequel- Dead Island Riptide: Rigor Mortis Edition.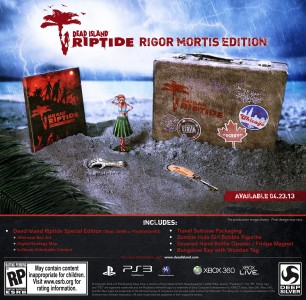 Last Fall Deep Silver asked fans of the tropical zombie melee-fest to vote on the contents of a possible collector's edition for Riptide. Now those results are in and, low and behold, it looks like there will actually be some pretty neat stuff in what's now being called the 'Rigor Mortis Edition' of the game.
Firstly, this is one collector's edition that's actually going to be pretty limited in availability, so if you want one, you might want to order now from your favorite retailer. And if you do order up, you'll be on the receiving end of a zombie arm bottle opener among other things.
The contents of the Rigor Mortis Edition are extremely limited and are available for preorder now at retailers across North and Latin America on a first come-first serve basis with a suggested retail price of $79.99.  In the haunting, superb-quality Rigor Mortis Edition, Dead Island fans receive their very own zombie hula girl bobble figurine, a bloody zombie arm bottle opener magnet and a bungalow key with a branded wood keychain.  In addition, the Rigor Mortis Edition will include a copy of the Dead Island Riptide Special Edition for console, packed with a treasure trove of extra DLC content and a helpful digital strategy map.  All of this is embalmed in the ultimate Dead Island replica suitcase – the most iconic item from the original Dead Island.
Dead Island Riptide, both standard and Rigor Mortis editions will be available for the Xbox 360, PC, and PS3 on April 23rd.