Dark Horse Comics brings more tales of Tarzan of the Apes from the golden age of comics; featuring the continued work of one of the most prolific comic artists of all time- Jesse Marsh.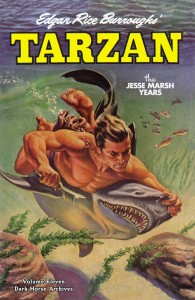 Tarzan might not be a name that has all that much pull in the modern world of comic books. I'm no fan of the character either as all I really know of Tarzan is that my grandfather was a big fan of the radio series (that was back before TV, kids).
When I think of the character, I do get a pretty well defined picture though- a man raised in the jungle who swings on vines and repeatedly saves his gal Jane… kinda like Super Mario really, just no giant turtles or pipes. Turns out, that's not all that there is to one of the most longstanding characters in comics (or on radio). Shocking, I know.
Volume 11 of the Tarzan comics series (originally published by Dell Comics, no relation to the PC maker) binds together Tarzan numbers 52-56 and adds on March of Comics number 125 for good measure. These books are from the fabulous fifties (as in 1950's) and are every bit the vintage treat that you'd assume they were. If you're a fan of the art form's history, you're more than likely going to love this one (and probably the other ten volumes too).
To say that Jesse Marsh had a tenured run on Tarzan might be an understatement. He was there with the comic right from the start and only passed the pencil off to Russ Manning in 1965 due to his failing health. This volume is the eleventh both in the series and as far as Marsh's involvement in the book go. It's easy to see why he lasted so very long as the ape man's artist too. His big, bright colors and lush jungle-scapes and savannah's are brought to life with style and it almost feels like you're watching an old Harryhausen flick at times.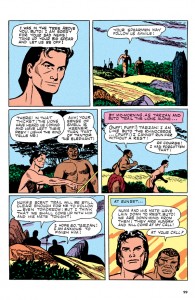 No, this isn't the hyper-detailed work that you'll see in many of today's comics, but what's presented here is what was very much the style of the time and it's just as charming and fun as it ever was. You'll see pretty much anything that you could imagine in this book too. Tarzan does everything from taking on a horde of angry talking gorillas (no Grodd though) to flying high on his giant eagle (no, really!) and battling a gaggle of gangsters who have invaded his adopted kingdom.
It's a great read and scribe Gaylord DuBois takes the reader and the lord of the jungle on adventures that you probably wouldn't associate with Tarzan off the top of your head. Some of this stuff even trends on 'high fantasy' ground and almost reads more like a Lord of the Rings or Dungeons & Dragons story at times. It's some very cool stuff.
Also pretty awesome are the extras packed throughout. Covers, bonus pages that feature mini-dossiers on some of the characters, and vintage ads are sprinkled through the whole book and punctuate several of the chapters.
Personally, I think these are are some of the coolest things about reading compilations of older comics. Getting a picture of the times and age when the books were originally published is a good chunk of the fun, even if you're not a particularly big fan of the subject. If anything, I would have liked to have seen more of this kind of stuff and maybe even have had a little more added in. I know that's probably unlikely since everything in the book came from the actual comics they originally appeared in, but a little bonus section would have been nice.
Final Thoughts
Like I said, I was no Tarzan fan when I first cracked open Dark Horse's 11th collection of the Dell Comics originals. So with that in mind, it's probably pretty high praise that I can honestly say that this is a book I thoroughly enjoyed.
The artwork is really neat and the stories are simple and still stand up today because of that. It's just plain old fun stuff and in the end, creator Edgar Rice Burroughs' hero is still just as much of an interesting character today as I assume he was years ago.
Maybe the biggest compliment I can pay is that I very much want to check out some of the other books in the series and some of the more modern stuff based on Tarzan after reading this volume.
Give The Jesse Marsh Years a shot and you just might too- just don't forget your loincloth.