Okay now this is just plain cool. Evel Knievel's 'stunt worn' helmet and jumpsuit are going on the block this month.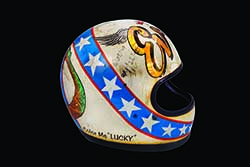 Having this stuff in a case in your den might be the most awesomest thing ever of all time. Yeah it's almost so awesome it hurts… Did I also mention it's pretty expensive?
Just keep in mind that the helmet (and maybe the jumper too) is the very one worn by Knievel for his famous last jump when he 'retired' in front of a packed crowd- just after a devastating crash.
Here's the listing:
This is the famous Bell Star full-face motorcycle helmet prominently seen when Evel Knievel attempted to jump 13 single-deck AEC Merlin buses at London's Wembley Stadium on May 26, 1975. The highly promoted event took place in front of 90,000 people and was televised by ABC's Wide World of Sports. Knievel barely cleared the 13th bus as the crowd gasped for breath. On the landing, Evel's front wheel bounced, launching him over his handlebars and sending him tumbling violently for 50 yards. As the limp daredevil came to a halt, his Harley-Davidson brutally rammed into him. Knievel lied motionless on the ground with a broken hand, a re-injury to his pelvis and a compression fracture of a vertebra. A concerned hush rushed over the London crowd as a swarm of medics and security surrounded him. A stretcher was drawn, but the battered daredevil insisted on leaving the arena on foot and grabbed a microphone and dramatically announced to the crowd that they would be "the last people in the world who will ever see me jump. I will never, ever, ever, ever jump again. I am through." The helmet is expected to fetch $60,000 – $80,000.

This is one of the last (if not the last) custom leather jumpsuits custom made and worn by world-famous motorcycle daredevil Evel Knievel. Throughout his daredevil career, Knievel was known for his sensational leather jumpsuits that were compared to the jumpsuits worn by Elvis Presley. In interviews, Knievel said the reason for his flamboyant jumpsuits was the fact that he saw how Liberace had become not just a performer, but the epitome of what a showman should be, and he sought to create his own variation of that showmanship in his own jumps. The Smithsonian Institute's Evel Knievel exhibit is viewed by millions, and features one of his leather suits and a motorcycle. The suit is expected to fetch $40,000 – $60,000.
Yep, that's a lotta clams. You can kind of see why though as this is some seriously historic material that'll be available.
The auction is set to be held on December 14 & 15 at the "Drama, Action, Romance – The Hollywood Auction" event, courtesy of Profiles in History. Just remember; don't go waving that paddle (they still use those right?) around unless you're actually bidding.