Valiant Comics was big in the '90s and now that they've relaunched, they're resurrecting something else from the decade back to the forefront- the comic based trading card series.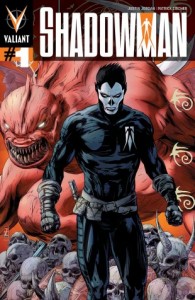 I remember my local comic shops here in New York (there used to be three or four- now there's one) being absolutely loaded with trading cards emblazoned with just about every comic book hero and story arc that managed to attain blockbuster statue… come to think of it, in the '90s that was pretty much everything.
Now though, I usually see one or two boxes of cards sitting just under the register, flanked by piles of 'blind box' toys and eastern flavored collectable card games. That might be about to change though as Valiant has just signed on with Rittenhouse Archives to produce a line of collectible cards based on the company's popular relaunched superhero universe.
Rittenhouse actually already knows what they're doing with cards and produces lines based on some things that I'm pretty sure you're going to be familiar with: "Rittenhouse currently produces trading cards for James Bond, Star Trek, Marvel Comics, Game of Thrones, True Blood, Spartacus, Falling Skies, Warehouse 13 and other top properties."
"We are proud to partner with Rittenhouse Archive as one of the leaders in this category," said Valiant Entertainment CEO Jason Kothari.  "The creative force applied to Valiant's fan favorite comic books is being combined with Rittenhouse's complementary talents to develop and implement state of the art cards and collectibles – together, we have already identified concepts not yet seen that will be truly exciting for Valiant fans and help bring in a host of new fans."
As for the characters that those "concepts" will be paired with, you can expect to see the Valiant U's heaviest hitters and biggest characters be well represented. X-O MANOWAR, Archer & Armstrong, Harbinger, Shadowman, and all the rest will be featured in the new product line.
The deal will come to fruition with the initial offerings (which'll be both cards and albums) being available at the biggest comic and pop culture event on Earth- the San Diego Comic Con this July.