In Marvel Pinball: Civil War, for Zen Studio's Pinball FX2, you must choose a side!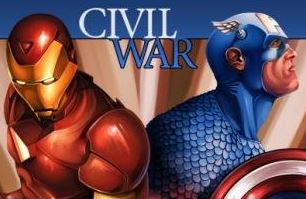 Superheroes are everywhere in today's pop culture, and everybody wants to be them. While I grew up with DC characters like Batman and Superman, my kids are more interested in the Marvel ones, especially those from the Avengers: Captain America and Iron Man, specifically. As the film briefly touched upon, even our goodly superheroes don't always agree on the right course of action. Marvel's Civil War was originally a comic book mini-series from 2006, that poses the question: what happens when superheroes disagree on something so much, that they split allegiances? A time where friends fight friends, and heroes become "villains."
Zen Studio's popular game Pinball FX2 introduces a unique "interactive" pinball table with the Marvel Pinball: Civil War table. The $3 add-on is the first pinball game, that I know of, that asks you to choose a side. Do you stand with Iron Man, who believe that superheroes should reveal their secret identity, and be held accountable for the actions of their super powers? Or do you side with Captain America and the anti-Super Hero Registration Act?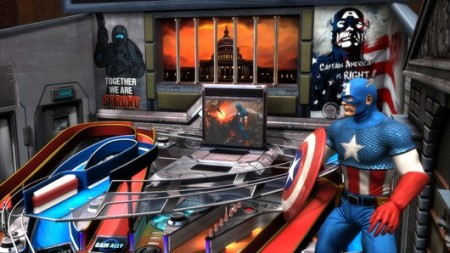 Much like the comic book series, the pinball table begins with the spark that divides our favorite Marvel superheroes. The actions of naive superheroes results in a terrible tragedy, the destruction of a neighborhood in Stamford, Connecticut. After playing for a short while, the pinball machine will become unresponsive, the whole table dims, and the player is informed that it's time for a moment of silence for the fallen. Very moody!
When the table powers back up, it's time for you to choose your side. Iron Man and Captain America, stand on opposites of the table, and argue their point of view.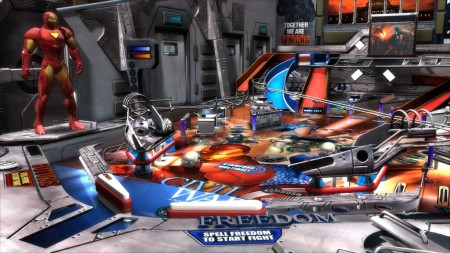 The thing that really appealed to me while playing this table was the option of choice. Back when arcade games were actually a thing, I typically stuck to the arcade cabinets, rather than playing on the pinball machines. While pinball machines were beautifully-crafted, I found them less appealing because of the lack of dynamic change. Sure, there were mechanics that might change the path of a ball, or even layered tubes and channels for the ball to roll through, but the differences that were possible were not quite as dramatic as a software programmed video game. Even though the Civil War table doesn't alter things visibly, I liked being able to have a little more interaction by choosing a side.
By scoring points you can gain allies or make enemies. The progress you make will also be displayed in comic-book style of breaking news television interruptions.
It felt more freeing that playing a normal pinball table, and the illusion was totally appealing to me. I liked the mood lighting during the tribute to Stamford, and as an ambiance during the battle between sides. I'm certainly not a pinball pro, but as a casual player I really enjoyed playing this table. The sound effects and style mimicked that of a real pinball machine.
Final Thoughts:
Marvel Pinball: Civil War table, for Zen Studio's Pinball FX2, is a fresh and unique take on virtual pinball machines. While I'm more of a casual pinball fan, I liked the dynamic quality of Civil War. Even though there are limitations to the amount of physical changes that can actually be made to a pinball machine during play, the ability to choose sides on the Superhero Registration Act, was neat, and it totally sucked me in. The lighting was also nice, and helped make for a rather dramatic pinball table. For $3, this is a nice add-on to the already awesome collection of pinball tables for Pinball FX2.