The cheerfully named 'Planet Death' saga will start one of Valiant's biggest heroes, X-O MANOWAR, on the road to universe changing interstellar war.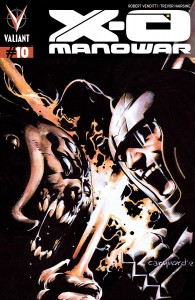 If you're not reading X-O, this is the perfect time to hop onto the book. Valiant's powerhouse delivers a thoroughly enjoyable book and is kind of like Iron Man (who he actually teamed with in a game once) meets Thor in a title that's easily one of the best superhero comics on the market right now.
It has all led to this. Abducted from his time and enslaved by an alien race known as the Vine, Visigoth warrior Aric of Dacia has escaped into the modern day with the universe's most feared weapon – the all-powerful X-O Manowar armor. Hounded by the Vine at every turn since his return to Earth, X-O Manowar is about to face his most formidable foe yet – an elite unit of X-O Commandos, sent to reclaim their weapon at any cost! But if the Vine can't defeat the X-O Manowar armor, they'll find another human to wield it…
Prelude to Planet Death will run through X-O #9 (out next month) and February's X-O #10. Those will then be followed up by the four part Planet Death storyline itself which will begin in X-O MANOWAR #11.
This is the second big story arch for the character since his return and Valiant is touting Planet Death as "The most ambitious X-O Manowar event EVER"- it just might see a brand new wearer emerge for the sentient X-O armor, so it easily could be a very big change for the book.
But before all that, X-O #9 comes to comic shops this coming month to start things off with a story by best selling author Robert Venditti and pencils by the talented Trevor Hairsine. There'll also be a special pullbox variant cover by artist Cary Nord, here's a peek: