So, those of you that had preordered the latest installment of Call of Duty: Black Ops 2 should have received a code for an exclusive map, Nuketown 2025. But it seems that with the end of this weekend's Double XP event, so comes the end of the map.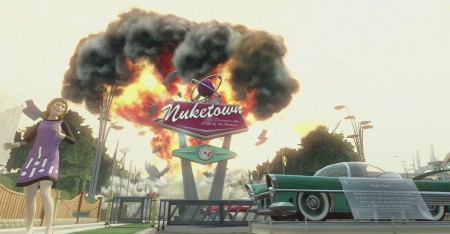 A tweet from David Vondervaar, developer Treyach's game director, confirms that the map has in fact been pulled. Vondervaar tweeted, "Double XP weekend is official over. That means Nuketown 2025 / 24-7 is as well. I know. RIGHT? Don't kill the messenger." He then added "Nuketown 2025 / 24-7 will be back for special events. You can always play it with your friends in Custom Games."
After a number of angry tweets from CoD fans, David has since put up another tweet saying, "You killed the messenger, but I still fight for the users. RT to #bringbackNuketown2025 and we will add to a small maps moshpit." So, pop along to David's Twitter (@DavidVondervaar) and RT that, or just send him your thoughts on the map being pulled.
(Initial story via X360A, thanks guys.)