Diamond Select has announced a selection of "officially licensed kitchen items" that will allow The Walking Dead fans to… eat the dead.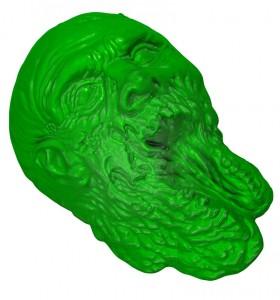 The Walking Dead Silicone Tray lets you cast up chunks of ice, chocolate or gelatin in the shape of zombie body parts, as well as the famous Walking Dead comic book logo — perfect for a cool drink and a snack with the latest issue of TWD. And the Walking Dead Silicone Gelatin Mold reproduces a quivering 9″ by 5″ zombie head in whatever color gelatin you like. Turn any dinner into a dinner party, and any dinner party into a night of unspeakable horror!
And I… think that's probably all that has to be said, no?
Look for The Walking Dead gelatin mold and ice-cube tray (although I really liked that chocolate idea) at your favorite comic or specialty shop soon and they're also available for pre-order now