I'm Master Chief and I approve this message.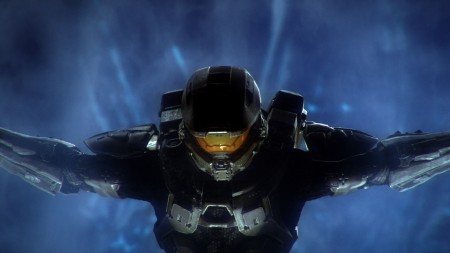 Hopefully by the time you read this, the United States has announced a victor in the Presidential Election, and the United States isn't involved in another embarrassing and bitter recount like it was 12 years in 2000. Perhaps we have the same Commander in Chief for four more years, or maybe we have a brand new one? But there is one Chief that I definitely know I can count on being around for awhile, and that's good old Master Chief, Petty Office John-117.
I remember, being an early adopter for the original Xbox, trading in a bunch of old PlayStation, PlayStation 2, and Dreamcast to help me afford an Xbox system preorder bundle pack at the local GameStop, which required three game preorders, one of which being the then unproven Halo: Combat Evolved by Bungie Studios. Halo had an interesting history, moving from a PC-exclusive real-time strategy game to an Xbox-exclusive first-person shooter. Prior to Halo, my love for Bungie was the action-strategy series Myth, which was a war game that had nothing to do with science fiction or technology.
I remember the Thanksgiving of 2001, just after the launch of the Xbox and Halo, where my brother and I spend the majority of the day working our way through the game.
It was an awesome experience that gave me faith in split-screen coop. Interestingly, this was the only Halo game that didn't really offer any sort of multiplayer experience.
Flash forward to the year 2012, and Halo 4 has just been released. While the reviews are still coming in, the response has been overwhelmingly positive. The most interesting factor to me is that this is the first proper Halo game that didn't have Bungie Studios leading the charge. Instead the Microsoft development studio 343 Studios has been handling the license, which Bungie continues to work on some still undisclosed project.
I think what is most surprising is that Microsoft hasn't bastardized the license the way that I believe myself and other expected. Knowing that other publishers throughout history have released mediocre products that sold well simply because it had a well-known name, I was shocked to see how faithful the Microsoft-owned 343 Studios handled the license.
It'll be interesting to see how many copies of Halo 4 sell, as the last several Halo release have had absolutely nothing to do with Master Chief. Halo War, Halo: ODST, and Halo Reach offered new protagonists and heroes. While some of them had abilities and the general badassery of good old Master Chief, none of those game actually featured our favorite Space Marine.
Because this Brutal Gamer is a democracy (see how I'm attempting to tie it back to the U.S. Election?), how do you as gamers feel about a new Halo game, featuring Master Chief, that wasn't developed by Bungie Studios? Do you think it's possible that a completely different developer could one-up Bungie's legacy? Or is this something of a sin? If you've played Halo 4, has the license been handled faithfully, or should Microsoft have let the Master Chief story line die after the conclusion to Halo 3? Cast your vote, and let us know!