They're baaaack…and this time they have muscle behind the magic.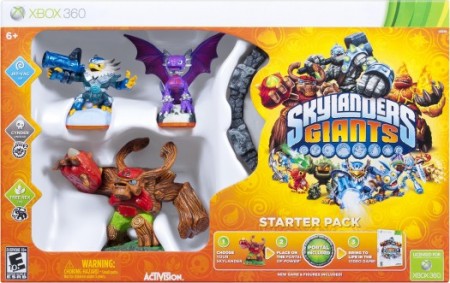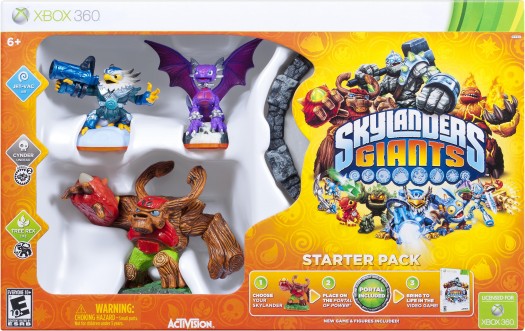 Last year's release of Skylanders: Spyro's Adventures created an almost instant phenomenon. Adults and kids alike flocked to stores and cleaned shelves of every figure almost as soon as they were stocked. Activision's winning formula of likeable characters, enchanting gameplay, and super cool toys was a hit. Many fans of the first Skylanders game have been anxiously awaiting the release of Skylanders Giants. But how does the new game stand up against the highly successful original? And can gamers new to the Skylands expect an accessible adventure that needs no introduction? The short answer? YES!
Skylanders Giants brings back both the Skylanders and their friends from the original adventure, and the villain Kaos who wants to take over the idyllic Skylands. In fact, in many ways it feels like just another episode of the first game, which is perfect. The first game was so much fun, and left fans wanting more, and Skylanders Giants gives them it. Kaos has found his way back to the Skylands, and has stumbled across a massive ancient robot in the process. Naturally, he commandeers it and sets off on his evil quest. Luckily for Skylands, you've found the long hidden Skylanders Giants, who defended the Skylands until an epic battle with the Archeyan robots caused both robots and giants to vanish.
The giants, obviously, are the heart of the new game. In your starter pack, you get one giant, Tree Rex, as well as two standard Skylanders, Jet-Vac and Cynder. Tree Rex is obviously larger than the others, and his eyes and the orb on one hand actually light up when he's placed on the Portal of Power, which is very cool. The giants do more than just look cool, though. They actually can be used in place of bombs to take down large walls, they can smash rocks to uncover treasure underneath, and they can throw large artillery to take out targets. There are many places in the game where you are asked to switch to a giant to continue, and while they move slower than a standard Skylander, they can really get a lot done fast.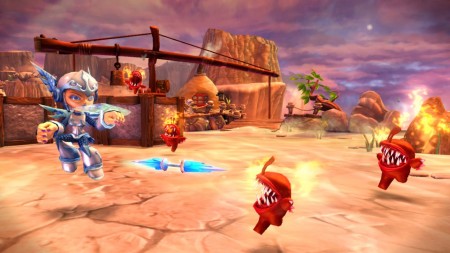 I know the first question that came to my mind when I heard there was a new Skylanders game coming was whether your old Skylanders would work on the new game. While the new Skylanders are differentiated from the old by the color of their base (green for old, orange for new), I am happy to report that all of your Skylanders will work just fine on the new game, and will carry their upgrades and levels over as well.
Skylanders Giants, like Spyro's Aventures, has many areas which can only be accessed with certain varieties of Skylanders. For instance, one bonus area may only be accessed by undead Skylanders, while a sky area might only be open to air Skylanders. While this might cause a bit of frustration if you don't own one of that particular type, these areas are for accessing loot and special character hats, and aren't necessary to complete the game. You can solve the game with only the Skylanders included in your starter pack. The extras are great for replay value, but not necessary.
Speaking of replay value, there is just a ton to be had in Skylanders Giants. While your first play through might be limited to leveling up your characters and getting through the game, there are all sorts of ways to go back. You can earn stars at the end of each level for things like completing levels in a certain amount of time, finding all the treasure chests, locating all the hats, and more. You can also upgrade both your characters and your ship, so there are an infinite amount of replays to be had for kids who just can't get enough Skylanders.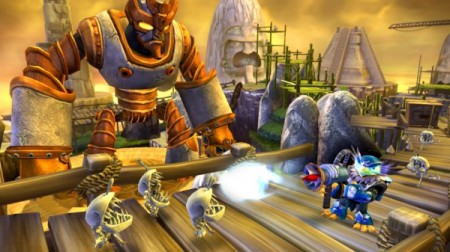 The game play itself is much like the first Skylanders game. You'll work our way through the levels and fight enemies using both a primary and secondary attack (these are different for each Skylander). At the beginning of each level, you are given a goal – such as finding parts for the ship, or stopping one of Kaos' plans – and then you wander around until you find everything you need. At the beginning of the game, you are given a choice between three difficulty levels, so this can all be as simple or as challenging as you like. Because everything is low pressure and you don't really die, it makes a great game for the very young. My four year old daughter just cannot get enough of it, and she's advancing quite well. At the same time, there's humor and challenge for older kids and adults too, which makes it a game the whole family can enjoy.
One of the best features of both Skylanders games is the characters. They are absolutely fun toys in their own right, and work great for imaginative play when screen time is done, not to mention they make a very cool display for collectors. Each Skylander comes with a collector card and a code for online play, and the characters save their level and upgrades right to the figure, making it easy to take your Skylander along for play at a friend's house. They even work cross platform, which is an awesome value on something that could have been exploited.
Unfortunately, having leveling saved to the characters will likely mean that multi gamer households will need to purchase multiple sets of the figures, so that everyone will get a chance to upgrade on their own. Still, the characters themselves are not terribly expensive when you consider that they are an action figure, a video game component, and a trading card all in one. Plus, having an avid collector in the house makes for easy wishlists for the holidays.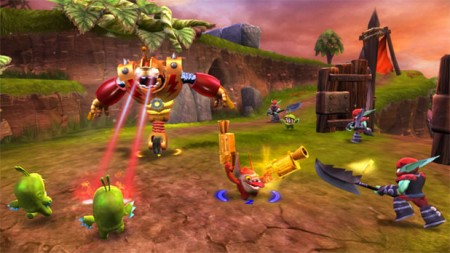 Final Thoughts:
Skylanders Giants is a game the whole family will love, young and old. It has an enchanting story line, infinite replay value, and great accessories. In a world where so many kids' games feature simply a re-hashing of a television show, or borderline offensive stupidity, it is refreshing to see a game that so completely captures the joy of being a child. I wholeheardtedly recommend Skylanders Giants, and already look forward to the next installment in the series.