If you ain't outta control, you ain't in control.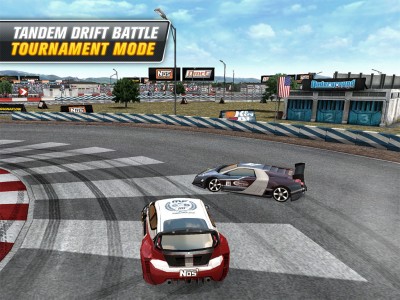 Okay first of all- I had no idea there even was a drift racing circuit. And I assume that there is one since the intro video for DMC2 clearly shows some real cars sliding around a track… there are even real scantily-clad women with energy drinks (NO2 is an official sponsor of the game).
No, I always thought drift racing was way more underground than this. Honestly though, can you blame me? I mean come on- Tokyo Drift warped my sensibilities!
Movie magic aside though, drifting (and racing in general) isn't really my bag. I've never really been into driving games and stuff like Gran Turismo just plain old makes me cringe… and maybe cry a little. Thankfully, Drift Mania Championship 2 from Ratrod Studio is nothing like the aforementioned real driving simulator.
DMC2 is an arcade-y racer with a flair for one of the most stylish innovations in the racing world, that being drifting. When a car drifts (as I understand it anyway) it careens around a corner in a (mostly) controlled slide instead of a completely controlled turn. There's a ton of sideways movement and screeching tires and, occasionally, a cool puff of smoke.

And that's what you pretty much get in Drift Mania Championship 2. You know what else? It's actually pretty fun. I found myself heading back into the game over and over trying to nail achievements (that's how you unlock tracks) even if I had lost a million times. That alone says something for the game as my frustration pedal hits the floor pretty fast with racers.
There are a total of twelve courses in the game and each has a series of achievements that have to be unlocked in order to open up the next track. Technically, you don't have to nail the 'cheevos to move on, but the alternative is to buy an unlock with 'in game' cash, ,which can take a while to accumulate. Don't have enough of that? Then you can get some with 'real world' cash… so you see why I went the route that required a little elbow grease on my playthrough.
Fortunately, hitting the marks and nailing your objectives isn't impossible by any means. It might take you a few plays per course, but it's a fairly easy task most of the time. Helping things out in the repeated play department are the visuals, which are some of the nicest found in a racer of any kind on the App store.
The graphics in DMC2 are right up there with some of the better looking games on Apple's storefront. The tracks look really solid and at times approach 'gorgeous' levels and the cars themselves don't look too shabby themselves.
I would have liked to have seen a little more in the way of detail on the vehicles but that's not the end of the world. The damage (or lack thereof) did bother me though. DMC2 goes out of it's way to dock you points for scraping the walls, but nothing shows up on your car post impact. It's little things like that that tend to bother me in racing games, and it does here as well. I'm not asking for Burnout-level smashups, just a little damage so I can see the state of my ride.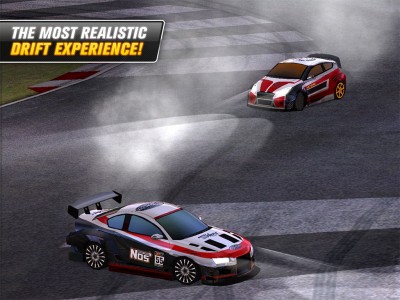 One note here about the controls- they will take some getting used to for most players. You can change things around in the settings, but I found that whatever I chose as far as a control scheme went still took a little trial and error to get the hang of. I suppose that might change depending on your familiarity with drifting as a sport(?), but it was a few plays before I got the feel for it. Once I did get the hang of things though, it was smooth sliding, uh, sailing.
Final Thoughts
I really liked Drift Mania Championship 2- so much that I actually surprised myself.
With a dozen tracks and a solid customization and part list for your cars (and there's a decent amount of those too), you'll actually have a lot to do between drifting around courses. Ratrod has really produced a quality game that wraps up a nice graphical and audio (even the music is pretty good) presentation and ties it onto a pretty great drift-racing engine.
Sure it's not the deepest experience in the world, but I can't believe I had as good a time as I did with this game. Drift Mania Championship 2 is definitely worth the time of racing fans, played either in short bursts or even longer stretches. Just make sure you invest in a good set of tires- they tend to wear out fast.