The crossover of heroes and villains continues this summer at Marvel Comics, with a second round of announced matchups for Acts of Evil.
Acting out
As we told you about a month back, the fourth big event for 2019 coming out of Marvel Comics is Acts of Evil. If that name sounds familiar, it's because it's a thematic follow-up to the classic Acts of Vengeance crossover from 80s.
Acts of Evil matches heroes up with villains that they haven't really faced before. Each fight will take place in an Annual issue of a running series, and it doesn't seem as though there'll be a central "event book" tying them all together. Venom, Punisher, and Ms. Marvel will feature in the first round, with a 2nd set just announced.
Those are…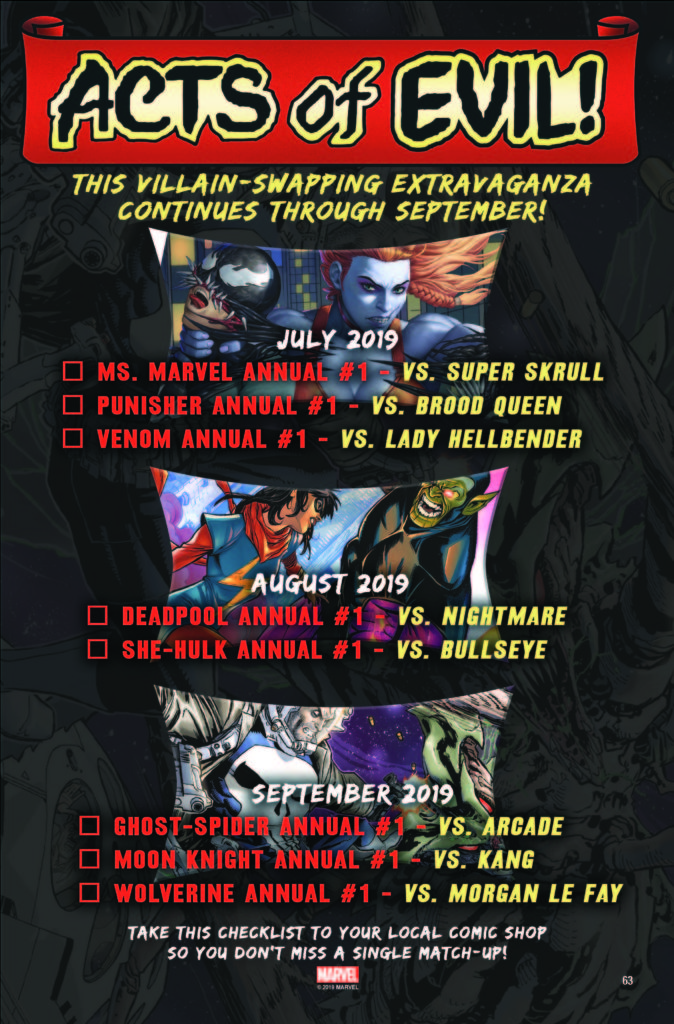 DEADPOOL ANNUAL #1: DEADPOOL VS. NIGHTMARE

Written by DANA SCHWARTZ
Art by REILLY BROWN
Cover by AARON KUDER

SHE-HULK ANNUAL #1: SHE-HULK VS. BULLSEYE

Written by ALEXANDRA PETRI
Art by ANDY MACDONALD
Cover by MIRKA ANDOLFO

GHOST SPIDER ANNUAL #1: GHOST-SPIDER VS. ARCADE 

Written by VITA AYALA
Art by PERE PEREZ

MOON KNIGHT ANNUAL #1: MOON KNIGHT VS. KANG

Written by CULLEN BUNN
Art by IBRAHIM MOUSTAFA 

WOLVERINE ANNUAL #1: WOLVERINE VS. MORGAN LE FAY 

Written by JODY HOUSER
Art by TBD
More are on the way of course, as this looks to be a line-wide Annual event. We'll have those for you, as well as a promised old-school checklist of titles, in the weeks to come.
Acts of Evil will begin this August and run through September.