Landing for pre-order just as the major motion picture hits theaters, Mezco Toyz' One:12 Collective version of Hellboy is looking great.
Demon turned hero
Mike Mignola's Hellboy is a favorite here at BG, and also among fans, who've kept the supernatural hero alive for 25 years. Aside from the 25th for the character, 2019 also marks the first in a rebooted movie series.
The David Harbour-starring film opens this week, on April 12th, and Mezco's got a brand new action figure ready. Well, not ready actually. He's officially up for pre-order though, and is looking awesome.
Although the movie has birthed some division in the fandom, the One:12 Collective action figure should not. That's because this is kind of just a cool Hellboy, period.
Yes, he's got some of the new film's elements baked in. This figure has the more human-looking legs for example. Still though, this is a wicked Hellboy, and one that fans should take a look at.
Bellboy (2019) arrives in spring of 2020. You can pre-order one right here.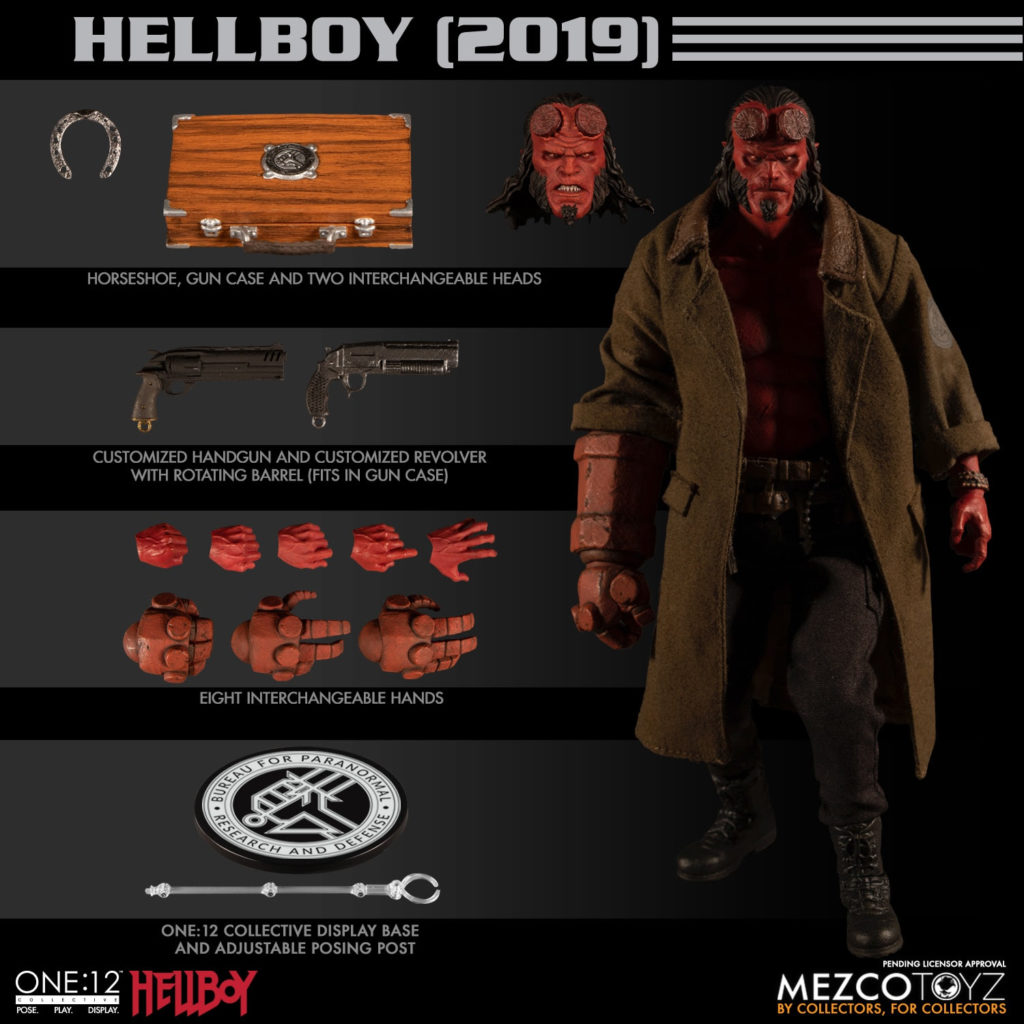 THE ONE:12 COLLECTIVE HELLBOY FIGURE FEATURES:
One:12 Collective body with over 28 points of articulation
Two (2) head portraits
Hand painted authentic detailing
Approximately 17cm tall
Eight (8) interchangeable hands including

Left

One (1) fist hand
One (1) gun holding hand
One (1) posing hand
One (1) Excalibur holding hand
One (1) horseshoe holding hand

Right Hand of Doom

One (1) fist hand
Two (2) posing hands
COSTUME:
Duster coat (removable)
Utility belt with holsters
Cargo pants
Mid-calf boots
ACCESSORIES:
One (1) customized handgun
One (1) customized revolver with rotating barrel (fits in gun case)
One (1) gun case
One (1) horseshoe
One (1) One:12 Collective display base with logo
One (1) One:12 Collective adjustable display post
Each One:12 Collective Hellboy figure is packaged in a collector friendly box, designed with collectors in mind.