The beast is finally here. Well, almost. Mezco Toyz King Kong of Skull Island figure has finally landed on their website for pre-ordering. And he looks awesome as ever.
The King is here
So, first things first, this is the 7″ figure that we showed you at Toy Fair this past February. It's not the gigantic version, which we're actually not even sure will ever hit retail. There was no definite word from Mezco at the show, so it might not. It'd be a fortune if it did. And anyway, this small version is every bit as cool looking.
Standing in at that 7″ scale, King Kong of Skull Island isn't bound to any one version of the ape. Instead he's unattached to even the recent remake, though he certainly takes inspiration from it and the 1932 original. His accessories, which include a gown-wearing Ann Darrow, tell us that much.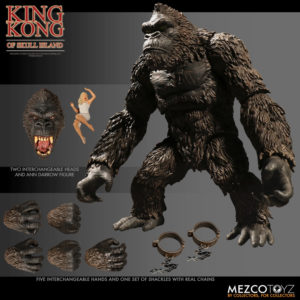 Set to ship out some time this coming November through January, Kong will run you $40 USD. You can secure one for yourself right here.
And here's what's in the box:
THE KING KONG OF SKULL ISLAND FIGURE FEATURES:
17.78cm tall, highly detailed King Kong sculpt
28 points of articulation
Two (2) interchangeable head portraits
Five (5) interchangeable hands including a holding hand for figurine accessory
One (1) set of shackles with real chains
One (1) scaled Ann Darrow figurine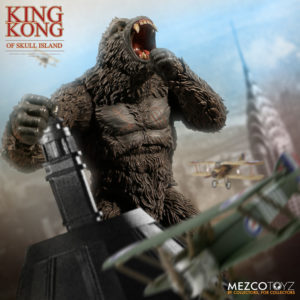 The King Kong of Skull Island figure comes packaged in a collector-friendly window box, perfect for display.