Super 7's fourth wave of throwback Masters of the Universe ReAction figures are out, with a full card of classics. How did it take so long to get Orko?
Mastering a format
Funko Toys has pretty much cornered the market on vinyl figures at this point. The toy giant has hundreds (thousands?) of Pop! figures out there right now, and there's no end in sight. They also have another form factor though, and it's one that a lot of more casual fans might've forgotten about.
Not as prolific as Pop!s, ReAction Figures are throwbacks. They harken back to the 80s, and the age of the Kenner Star Wars figures of old. That means they have only five points of articulation, and are other wise limited in terms of sculpt and accessories. That does not however, mean that they're bad looking.
ReAction Figures are purposefully nostalgic in their look. So if the figures have sculpting and paint applications that make them look like they were made in 1988, well, they're supposed to. That's the "hook".
For the most part, I think this line has kind of dried up though. Funko had Game of Thrones figures at Toy Fair last year, but I think that might have been the end of things. At Funko. Super 7 however, is another story.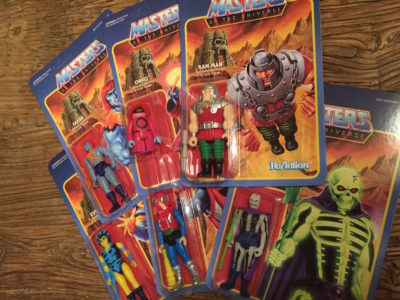 A company that's worked with Funko on the ReAction line, Super 7 has continued to craft figures under that heading. One other thing that Super 7 has going for it? Masters of the Universe. Getting the license from Mattel to make subscription-only MOTU figures after the larger company ended the line, they've been cranking out some pretty cool stuff. And aside from MOTU figures (and related items), they've also produced a bunch of awesome Masters-themed ReAction figures.
Three waves deep already, they now have a fourth out there for fans to take home. And guess what? It's pretty freaking great.
All-star lineup
I don't know how many more waves of these Super 7 can make before they start to dip into the lesser Masters and villains. Actually, maybe a bunch more, given the depth of the property's roster. Wherever the line goes though, this fourth wave is absolutely killer (with some quibbles).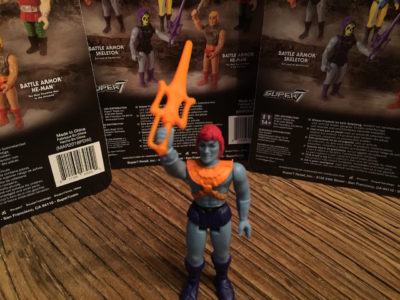 Included are three heroes and three villains, including:
Ram Man
Mekaneck
Orko
Scare Glow
Faker
Evil Lyn
However you look at it, that's a knockout of a series. Sure, Faker is just a repainted He-Man with Skeletor parts, but he's a cool repainted He-Man with Skeletor parts. And he is,without a doubt a classic of a Masters character.
Packaging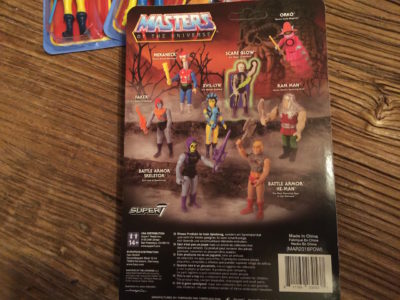 As you can see, all of these are packed onto standard blister cards. What still sets them apart though, from other figures out there, is the artwork. Splashed across the fronts of every card is a beautifully painted image of the character contained within by artist Jason Edmiston. You should hit that link by the way, he's got some great stuff on his page.
On the back, you see a look at the full wave, including Battle Armor He-Man and Skeletor. Officially released in wave 3, these staple figures are still available on the Super 7 store (along with a bunch more).
What you don't see is a bio. While the first waves of these had biography stories on the cardbacks, wave 4 eschews this for the more dramatic presentation of the line that you see here. Honestly? I don't care for it. I dig what they're going for, but the bios are fun, not to mention a nice little extra.
Scuplting and accessories
Keeping in mind the nostalgic feel, the sculpting here is pretty damn good. Faker is what I just described him as, but the rest are very solid.
Evil Lyn is terrific. She's got the old school look from the original series, and comes with her scepter. Orko is in an all-new form factor, and might hold some interesting directions for the line. If they're willing to break from the standard form, they might have a much wider slate of Masters to produce.
Ram Man, for instance, has a way wider body type than any other figure in the line. He's built like a linebacker, and has a head that's sculpted into place, resembling Juggernaut from the X-Men comics. His body is actually so wide, that it barely fits in the collector's case that Super 7 released last summer.
Scare Glow actually glows, and he has a wicked pain scheme. I was surprised to see the detailing actually does go all the way around too, giving him a full skeleton. His plastic cape is kind of crappy however. And the other negative with him is that he's lacking his Castle Greyskull key. That's kind of the character's thing at this point, so it would have been great to have seen it included.
But then, there's Mekaneck. This bad boy is the very first figure in this line that actually has his "action feature". Yes, Mekaneck's cyborg neck actually extends. He has a little slider on his back that you can slide up with your thumb. Again, this is a first in what's kind of a wave of firsts for Super 7's Masters of the Universe ReAction Figures.
All of these figures come with one accessory by the way, though you might've figured that at this point. Again, that's part of my issue with Scare Glow, but they are fitting. Orko comes with his wand, Ram Man comes with his axe… neat stuff. And it all pretty much mirrors the actual accessories that these figures came with when they were fresh, back in the 80s.
Poseability? Nah we don't need that
So what links the figures in this line? They all have the same pose. I don't mean the articulation, I mean the set posing of the character's arms and legs. None of these figures have anything other than perfectly straight arms and legs.
That annoys me since there's no really interesting way to pose these figures on your shelf. They still look cool don't get me wrong, but it's aggravating as a collector, which is the level of toy-buyer that these are aimed at. It's also worth noting that this kind of sculpting is really typical of the era these are supposed to be reminiscent of. So I suppose it all fits and should be expected. And yet it still bothers me.
I just really would have liked to have had some dynamically posed arms and legs, at least to a degree. Something so these figures would look better in a display. Can't have everything I guess. And I really can't complain too much anyway.
This line feels like an awesome bonus to the Masters of the Universe Classics series.  And I love it for that. It's something that fans probably never ever expected to see. I know I didn't. I didn't even imagine something like this could exist, and actually be popular enough to make it to four waves. But I'm insanely happy that it did.
I can't wait for wave 5 either (and I need to buy another Collector's Case if we're getting one). I'd love to see it expand into the Princess of Power characters, mainly for some Horde guys and gals. But if it doesn't, I'm more than happy buying more waves of MOTU figures. Quick picks for a wave 5? Buzz Off, Man E Faces (with action feature!), Fisto, Jitsu, Webstor, and Clawful. I'd buy all of those.
Masters of the Universe ReAction Figures Wave 4
Release date: Available now
Produced by: Super 7
They have the power
Solid sculpts that harken to a simpler time - 88%
Limited articulation and poses, but purposefully so - 77%
Nice paint apps, great accessories - 88%
Awesome choice of characters - 96%
The fourth wave of ReAction Masters of the Universe figures from Super 7 is every bit as good as the first three. Actually, it might be even better as the company is starting to get into different body-types and even action features. Minor issues aside, this remains a terrific throwback line that's only getting better.