You might have thought that after Rogue One you'd seen the last of Captain Cassian Andor and K-2SO. But you thought wrong.
Cassian said I have to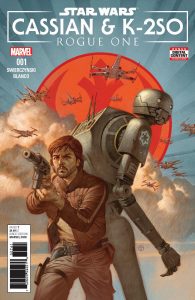 Thanks to the magic of comic books, and that Star Wars license that Marvel wields, two of the most memorable characters from Rogue One will be returning. Cassian Andor showcased the more extreme things that the Rebel Alliance would sanction in Rogue One. So I'd imagine this comic should be something of a different experience too. That's a good thing. I don't mean to say that Marvel hasn't been doing a great job with Star Wars in general though, because they have.
They've been offering your usual assortment of clear cut heroes and villains though. Well, more or less anyway. Cassian shakes things up nicely in that way, offering a more 'grey' protagonist. And of course, he won't be alone. Joining him will be the former Imperial droid K-2SO. You see where this is going? That's right, this one's an origin story for the unlikely team.
"When I first heard about ROGUE ONE, I was thrilled," said series writer Duane Swierczynski. "A heist movie set in the Star Wars universe? Are you kidding? Never in my wildest dreams did I think I'd be invited to tell a small piece of that story. And it was even cooler that I was asked to write about the first meeting of Cassian and K-2SO — easily my two favorite characters in the movie. What can I say? I love bad-asses and robots."
One to watch for if you're a Star Wars fan, Star Wars: Rogue One – Cassian & K-2SO Special #1 will feature art from Fernando Blanco and is set to hit comic shops this August.