The newest Nintendo digital download news is here, and for the Nintendo Switch's eShop, it's a pretty big arrival.
Puyo Puyo Tetris, a mashup of Tetris and Puyo Puyo is available right now for download on the Nintendo Switch's eShop.
"Fast-paced, competitive party game like no other. The game offers tons of game-play styles – from single-player Adventure and Challenge modes to ferocious competition with Arcade modes up to four players** – for tons of Tetris/Puyo Puyo variety. A free demo for the game is also available in Nintendo eShop," the press release reads.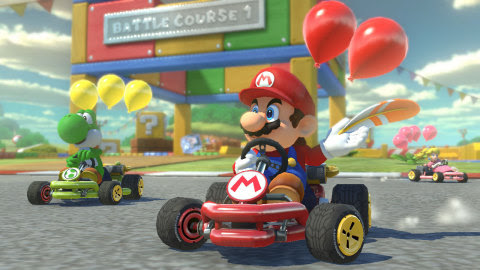 Perhaps more importantly, Mario Kart 8 Deluxe for the Switch launches in stores and as a digital download on Friday, April 28.
"The Mario Kart 8 Delux egame races to the Nintendo Switch console with more characters, karts and tracks unlocked from the start than any other game in Mario Kart history. The anti-gravity racing game is the definitive version of Mario Kart 8 and includes a revamped Battle Mode that players of all ages can enjoy together," the press release says.
Also coming to the Switch's eShop this week are:
TumbleSeed (May 2)
ACA NEOGEO OVER TOP
KAMIKO
The 3DS is getting:
Demo versions of:
Parascientific Escape Cruise in the Distant Seas
Blasting Agent Ultimate Edition
And the Wii U is receiving:
Use Your Words
Absolutely Unstoppable MineRun
Are you planning on picking anything up this week? I know I am grabbing Mario Kart 8 Deluxe. Sound off in the comments and let us know what you're downloading!