Some of the first Suicide Squad merch hitting stores to coincide with this Summer's big screen debut for the team, this new series of statues casts all the big names in three-dimensions.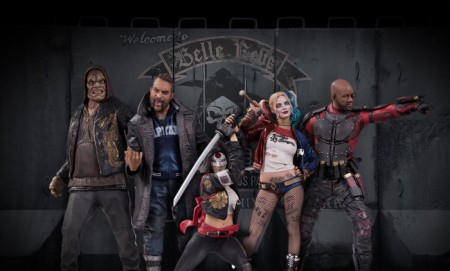 Designed to mirror the movie designs of these characters, some of the biggest baddies in the DCU, this new series from DC Direct sports some excellent likenesses. Will Smith, Margot Robbie, Jai Courtney and all the rest look terrific- right down to Jared Leto's Joker.
Sculpted in the 12″ scale, the first wave of these bad boys is scheduled to land at retail in July, to be followed up with wave 2 in August. And that second wave is timed to arrive just in time to finish off the set for the launch of the movie itself, which opens up on August 5th.
Each statue will run you $150.00 USD, so completing that collection wouldn't be cheap. They'd look pretty damn good on the old shelf though. Here's how the waves break down:
On Sale July 2016
DEADSHOT – SCULPTED BY ADAM ROSS
HARLEY QUINN – SCULPTED BY JAMES MARSANO
KILLER CROC – SCULPTED BY ALTERON
THE JOKER – SCULPTED BY JAMES MARSONO
On Sale August 2016
KATANA – SCULPTED BY SAM GREENWELL
BOOMERANG – SCULPTED BY ADAM ROSS