Nintendo's dino-rific platforming series returns for its first Wii U outing in a game that changes up the familiar Yoshi formula just a bit.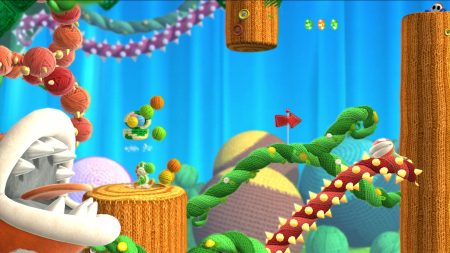 Well, spoiler alert, Yoshi Wooly World is fun. You probably guessed that though, since most everything that tales place in Nintendo's 'Mario' universe is a good time. I mean, you can't really go wrong can you? As long as you're a platformer fan, the company has the golden touch with anything that stars Mario, his bro, or his pal Yoshi.
That streak continues here with Yoshi's Wooly World, which is a familiar though somewhat new experience. Most of what's new centers on the homemade 'wooly' them. Much like the latest Kirby game was made with a claymation aesthetic that added to the gameplay, Yoshi's latest follows suit.
As that game starts, we find the Yoshi tribe congregation interrupted by Kamek, the Koopa sorcerer. I'm not sure what it is with this guy, but once again the nasty little warlock has chosen to pick on the Yoshi's, and once again that's probably not the best idea for him.
I digress though, so let's get back to the game; Kamek turns the Yoshi's into yarn spools, which he then snatches up and makes off with. As he flies though, he drops most of them across the game's world, and that also factors into things.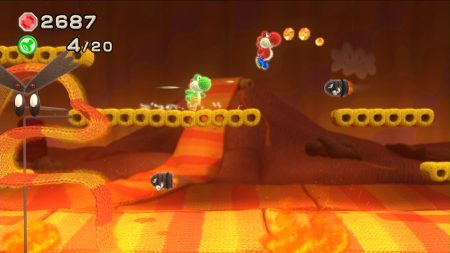 You'll make your way through the first of the game's worlds as the plain old green Yoshi that we all know and love, but if you collect all the yarn in each level, you'll soon have a cadre of the little guys to play as. They don't have any bearing on gameplay at all, but they look pretty cool and some are even patterned after the game's baddies (I liked the Shy Guy Yoshi in particular). You can also tap some Amiibo on the GamePad and deck out your Yoshi in similar garb for a little added fun.
As for the gameplay, it's exactly what you'd think it is, with a few wool-related additions. Yoshi runs, jumps, stomps, and eats enemies. And yes, you can still poop them out, but it's not as eggs – it's as yarn-balls. And while the yarn-balls work much like Yoshi's eggs have in the past, they can also fill out some bare-bones 'frames' of platforms and other objects that you'll come across. No, it's not a huge innovation, but it's pretty neat and gives you something else to do in the game, which is also cool.
All that's great, but let's talk graphics. The highlight of the game, Yoshi's Woolly World is fantastic-looking and another high-water mark for Nintendo in the genre. While I've loved the way that modern Super Mario titles have looked, Yoshi's Woolly World's highly stylized theme makes for a ridiculously cool visual presentation.
I'm not trying to be over the top here, or blow anything out of proportion either, I really liked it this much. In fact, even in parts that played kind of dull, or levels that seemed to drag a little (which was rare, since most of the courses are pretty short), the look and feel kept me playing on.
Actually, now that I mention it, that was one knock against YWW. Pretty much all the levels are tidy and fast to play through, but some felt way too short for their own good. It might have just been me, I realize that, but I thought a little more length to the stages would have been a good thing, and worked to lengthen the overall adventure a bit. As it is though, and even though it's a fun run, YWW is pretty short and easy to blast through to completion.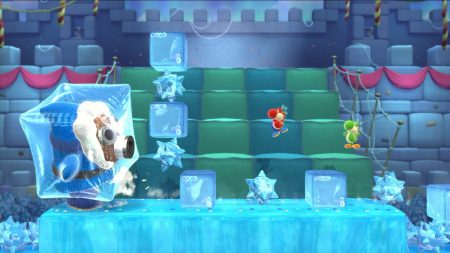 Heck, there's even a Mellow Mode that gives Yoshi flight to make the game even easier if you can't seem to finish a particular level. Some of them can be tricky, though I really only found myself using this feature to see what it was about. Other than that, it kind of sucked the fun out of things, though your mileage may vary.
There's one more thing I should talk about here, and that's the badges that you can play each level with. Costing coins (in-game currency, don't worry), the badges can give you different powers and abilities to give Yoshi even more of an edge. Again though, not that you'll probably need it.
Final Thoughts
Yoshi's Woolly World is tons of fun for fans of Nintendo's Super Mario universe of platformers, and should fit the bill nicely for those looking for something new as well. While it may not completely change things in terms of formula, it does just enough to make for a fresh feel.
While the gameplay might not be groundbreaking though, the graphics are phenomenal and rank among the very best Nintendo's console has to offer.