The latest in the Meisho Movie Realization Star Wars series of figures from distributor Bluefin and Tamashii Nations, Boba Fett is a masterless samurai in their latest reimagining.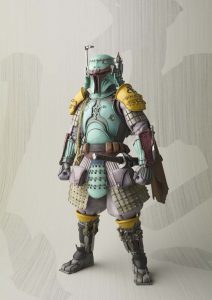 We've already seen Darth Vader and a Stormtrooper released as a part of this series, which re-casts the characters from a Galaxy Far, Far Away as warriors from ancient Japan. Quite frankly, they're pretty darn awesome, and now we're getting the best-looking one yet with Boba Fett.
Fett is decked out in period-inspired armor (from feudal Japan), that nonetheless reflects his look in the original Star Wars films. This version of course, isn't an installer bounty hunter, but a masterless samurai – a ronin. Pretty fitting for Boba Fett.
Designed by artists Takeyuki Takeya and Junichi Taniguchi, Ronin Boba Fett stands 6 and 3/4 inches tall and includes all the accessories that you'd expect to see with a figure of the character, including his signature blaster and missile pack. The kick though, is that all this stuff is also tailored to the time period on Earth, so that pistol is of the flint-lock variety, not the laser-shooting kind.
He's also not alone, as a second version of Darth Vader is set to arrive soon as well. Both figures will run you about $89.99 USD each with Ronin Boba Fett becoming available now or very soon from online storefronts, and Darth Vader hitting in January. You can see some more shots of Boba in action in the gallery below, and read up on some more of the figure's specifics (as well as see what's included with Vader).
Meisho Movie Realization "Ronin" Boba Fett
Height: Approx. 6 3/4 inches; MSRP: $89.99
Everyone's favorite bounty hunter goes medieval! Boba Fett joins the Meisho Movie realization series in a spectacular feudal Japan aesthetic, appropriately portrayed as a lord-less "Ronin" In addition to his EE-3 rifle, restyled as an flint-lock style blaster, this deluxe figure set features an extensive array of accessories that includes the characteristic backpack missile that can be removed/attached, and a moveable helmet mounted scope. In addition to a short ninja-style katana and sheath, numerous ninja-style blade accessories are also included can be subtly attached to shin and forearm area mounting points.
Meisho Movie Realization Samurai General "Daisho" Darth Vader
Height: Approx. 7 inches; MSRP: $92.99
Debuts January 2016
The greatly popular Samurai General Darth Vader makes a comeback in an all new Death Star motif. Another stunningly unique artistic interpretation master crafted by acclaimed artist Takeya Takayuki, Darth Vader – Death Star Armor – has a revamped armor design. Most notable is the fearsome Death Star-style crest on the helmet and highly detailed chest plate pattern. Set includes interchangeable hands, gun (large, small), and katana sword (light saber and regular).