Excellent timing, as Death and his pale horse will return to consoles just before All Hallow's Eve.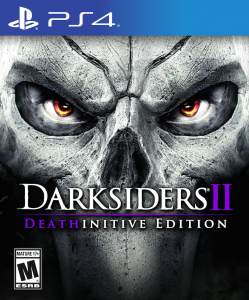 Looking better than ever, Darksiders II returns to consoles and the PC with the Deathinitive Edition, a remaking of one of the most criminally underrated open-world action/RPGs in recent memory.
"It's rare that as developers we get the opportunity to revisit one of our previous games. The passage of time and the numerous games we've worked on since Darksiders II shipped has allowed us to return to it with a fresh perspective. With that said, we went back to what is a huge game and addressed things we didn't have time for or didn't notice the first time. We started by revisiting every asset in the game, increasing the texture resolutions and brought the art up to spec to take full advantage of the new lighting and rendering. Darksiders II has a lot of DLC in the form of weapons, armor and unique locations. These pieces of DLC which felt separate from the main campaign have now been integrated into the game and rebalanced accordingly. Lastly, we've addressed much of the feedback we received after the game's release in regards to balance and bugs. With all these changes, this is truly the Definitive Edition of Darksiders II."-John Pearl, Design Director, Gunfire Games
So lots to like there if you were a fan of DSII to begin with, and even more to like if you've never played the game. Gunfire knows what it's doing with this one too. While they didn't directly develop the first release of DSII, they almost all worked at Vigil Games and on Darksiders before, so they're intimately involved with Darksiders already.
Personally, I loved the first game in the series and then skipped this one entirely for reasons that I cannot recall. With that, I'm pretty happy that I'll get another chance to explore the post-apocalypse, and this time on the newer round of consoles.
Aside from just looking better (and running in 1080p) though, you can also expect to see all the previously released DLC included in the box this time around. That's a list that includes "Maker Armor Set, The Abyssal Forge, The Demon Lord Belial, Death Rides, Angel of Death, Deadly Despair, Shadow of Death, Mortis Pack, Rusanov's Axe, Van Der Schmash Hammer, Fletcher's Crow Hammer, Mace Maximus, [and] Argul's Tomb".
There's also better balancing and different loot distribution this time – all of which equals up to a pretty different experience than the original release. Have a peek at the gallery below for some comparison screens of the old and the new in action.