Dead Drop has pretty quickly become a can't miss Valiant event.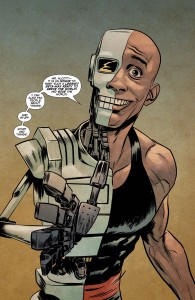 It's an interesting little mini-series, Dead Drop. There wasn't a ton of advance hype or promos attached to it, nothing in event the same realm as a Book of Death anyway. And I guess there's a good reason for that as BoD is a Summer crossover event, while Dead Drop is a mini that serves a kind of team-up book… sort of. For what it is though, it's gotten damn good, real fast.
Edging into the penultimate issue, we've seen a virus being trafficked across Manhattan via a series of dead drops, buy a terrorist group. We've also seen X-O Manowar and Archer try and fail to stop the handoffs. We've also seen both heroes taken out of the chase by Neville Alcott, Unity's official liaison with the UN and handler.
Thing is, we haven't heard from Aric since he was removed from things, which isn't exactly like the man who wears the X-O armor. There's also been something sever-so-slightly 'off' about Mr. Alcott, and that terrorist group? They seem less and less like bad guys as the story rolls on.
There's a very good reason for all of this however, and the truth (in its entirety) is laid bare here in Dead Drop #3. And my oh my what a truth it is. I won't spoil too much here, but suffice it to say, there's some seriously cool and definitely unexpected stuff happening here in this issue. Stuff that takes the narrative in a totally new direction.
Part of that is one of the lest impressive heroes in the Valiant U, Beta Max. A cyborg that was birthed in decades past, Beta Max is terrible out of date and can't upgrade himself all that much as he's not really compatible with the tech of the modern age. And yes, that results in some very funny stuff. He's pretty darn likable too, which is a fact that has an even bigger impact when this particular issue reaches its conclusion.
Writer Ales Kot is flat-out phenomenal here, as he continues to pen a set of characters that's stunning varied. He gives voice to the heroic, the out of their depth, and the comedic, with flair and style, and that equates to a really fun read that's also about as cliffhangery as you can get by the end of this issue.
Continuing the pending chores is Adam Gorham, whose stylized artwork has seriously grown on me and is just so stinking cool. The closest thing I can liken it to is the animated style from the old DC cartoons, though it's way more detailed than that.
Final Thoughts
Love this book. I just love it. It took some time for me to get into overall, but by this issue I'm sold, lock stock and barrel.
Gorham's art is terrifically fun, and Kot is writing a masterfully intertwined story here. And it's one that just keeps swerving, bobbing and weaving around the truth of what's actually happening with the virus and the fate of the world. And while the whole truth doesn't get completely revealed, we do get most of it, and it's something that I don't think anyone would have seen coming.
There's definitely bigger stories happening in the Valiant U right now, but none as much fun as Dead Drop. Go grab the first three issues if you can, and read up, because #4 is going to be one wild ride (and I'm pretty sure it's going to feature some not-so happy heroes).