From Game Freak Inc, comes the new and exciting smashtactular title, Tembo: The Badass Elephant.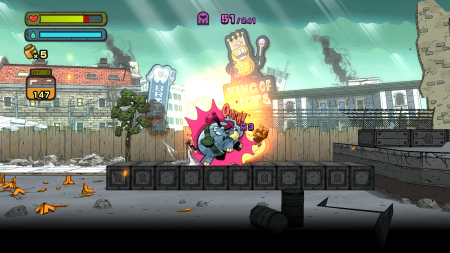 This 2D side-scrolling action adventure game is the tale about Tembo and his journey to save Shell City. The villainous PHANTOM group is taking over Shell City and occupying the streets with heavy artillery. Nothing seems to stop PHANTOM and the National Army is slowly control to the terrifying war machines. It seems as though all hope is lost until General Krenman calls in a secret weapon.
Tembo The Badass Elephant is exactly what Shell City needs. This wacky elephant has what it takes to stop PHANTOM's path of destruction and bring peace back to the city. Tembo can jump, smash, swing, punch and butt stomp his enemies as he smashes his way through 17 uniquely designed levels. Tembo: The Badass Elephant will be available for the Xbox One, Playstation 4 and PC and is set for release this coming summer.
"We're delighted to be working with Game Freak to bring this heavyweight adventure to an audience we feel it will have relephants to," said John Clark, the Senior Vice President of Commercial Publishing for SEGA Europe. "It's a trunkful of fun and we think gamers are going to love it. Hopefully more than my rubbish elephant puns. "