IDW teams with Boom Studios for a pairing of classic science fiction properties.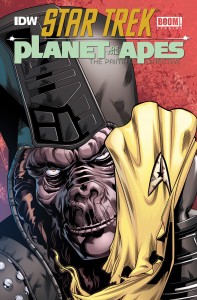 This one is very, very different indeed. There isn't a ton of story info as of right now, but Captain Kirk and the original crew of the Enterprise somehow find themselves on the Planet of the Apes, facing off against a group of Klingons who are backing a renegade faction of Apes. How exactly all this comes together (especially figuring the conventions of both universes) should be interesting to see to say the very least, but it does sound pretty awesome, especially if you're a fan of some of the best sci-fi of all time.
"Planet of the Apes and Star Trek are groundbreaking science-fiction properties and both deal with many of the same social issues and themes," says Greg GoldsteinIDW President & Chief Operating Officer. "A crossover between the two is a natural and long overdue."

"Before I could read comic books as a child, I could watch science fiction on my television. My dad used to wake me up way past my bedtime to watch Star Trek in syndication—it came on after the nightly news—and I took a Planet of the Apes lunchbox with me to kindergarten every day," says BOOM! Studios Founder and CEO Ross Richie. "Suffice to say, teaming up these two titans of science fiction on the page in a way that they probably will never meet each other on the silver screen is a huge moment for me personally and emotionally."

The creative team will be a mix of proven experience and new blood with scripts by beloved Star Trekscribes Scott and David Tipton (Star Trek: The Next Generation/Doctor Who: Assimilation 2) and interior art and covers by the British newcomer Rachael Stott.

"With the Klingons secretly backing a renegade gorilla general in a coup for control of Ape City, Captain Kirk finds himself in the uncomfortable position of having to help out Dr. Zaius' orangutans," explainsDavid Tipton. "Taylor won't be happy with that!"

"What an epic pairing! I'm so excited to see Taylor, Kirk…and those damned dirty apes…in our upcoming comic," says IDW editor Sarah Gaydos, "We're eager to team up these exciting creative forces to bring this to life."
IDW and Boom are promising all the characters you know and love for this one, as well as Klingons on horseback, brandishing rifles. What's not to like? Stay tuned, Star Trek/Planet of the Apes will be hitting comic shops sometime soon.