Nintendo has at long last revealed all of the courses for Mario Kart 8. All 32 courses have previews that can be viewed on the official Mario Kart 8 site.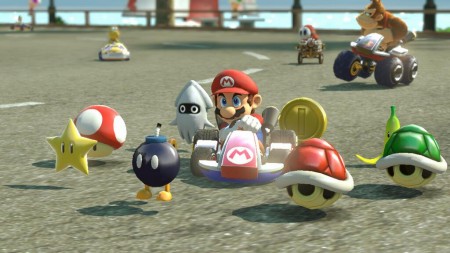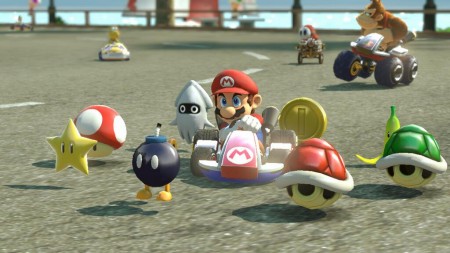 A a little bit of a warning before reading this article, if you're intending to surprise yourself when the game comes out, this article contains obvious spoilers for courses. Now that this little disclaimer is out of the way, let's get to the new content. All of the previews are muted, with only the soundtrack for the selected course playing. Each video is about a minute long, featuring different characters racing each time. The previews are shown in a way that doesn't spoil you too much though, as you sometimes just see the kart racer from the front, to the side, or get a view of the course from high above.
Needless to say, the remaining few stages that are revealed on the official site are impressive. Bowser's Castle, as expected, has some rocking heavy metal music in the background. The castle looks more sophisticated this time around, with searchlights attached to the castle and even a giant Bowser robot that attacks players. Expect to be challenged in this stage, and it doesn't look easy. Some other courses get more face time as well, such as new version of Rainbow Road. It's levels like this one that really give off an F-Zero vibe. It's a huge space station in the sky with all sorts of high tech machinery and other goodies like that included. Combine all of that with anti-gravity and you practically have F-Zero kart for the Wii U.
Tick-Tock clock is back, and even though the stage's layout isn't all that different, the look has changed quite a bit. As it should, because the level hasn't appeared in any Mario Kart since its debut in Mario Kart DS. There's more color to it this time around, giving off less of a Super Mario 64 feel, and more-so an original flavor, as if it's a course unique to Mario Kart 8. If some of these new stages aren't enough to satiate your appetite, then have a look at the battle courses. We're finally going to have battle stages fashioned after levels in grand prix again. The only other time battle mode was implemented this way was in Super Mario Kart. Mario Kart 8 is only 30 days away, and already a metric ton of content has sprung forth. Keep an eye out for more Mario Kart this month, we're bound to receive a lot more.
Source: Nintendo