Nintendo has announced that they will be offering DLC for the upcoming 3DS game, Mario Golf: World Tour.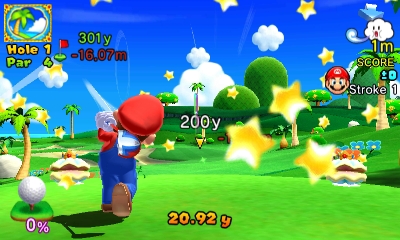 Three sets of DLC will be released for Mario Golf; the first is Mushroom Pack, which will be available May 2nd. The second set, Flower Pack, is coming later in May, and finally the Star Pack, which is coming in June. All three packs will include two courses; there will also be new characters included in the packs, with Toadette in the Mushroom Pack, Nabbit in the Flower Pack, and Rosalina in Star. The packs can be bought separately at $5.99, or they can be purchased all at once if you buy a season pass, which goes for $14.99. Keep in mind that the courses that have yet to release won't automatically be available once you buy the season pass. The pass is there for those who have already decided they want all three courses.
There's also a neat bonus that you'll get if you purchase the season pass; golden Mario will be available as a playable character if you get it. However, it's not exclusive to the season pass, as it will eventually be downloadable to everyone once all three packs are released. Mario Golf: World Tour is set to release May 2nd.