Action figures, playsets, vehicles and more are all on the way for 2014 is what's sure to be a very big year for the heroes in a half-shell.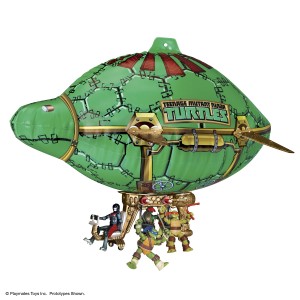 Not only does the new TMNT cartoon show continually produce episodes that fans (both young and *ahem* old) are eating up, but the much talked about movie from director Michael Bay launches this calendar year as well. For a flick so big, there's been little to nothing revealed about it and its characters as of yet. And apart from some pics of possible turtle (and Sheredder) designs that snuck onto the web some time ago, there hasn't even been any good solid look at what the heroes of the story will look like.
If that's something that interests you, I've got some bad news for you since we have exactly zero shots of any movie merchandise that's coming. What we do have though is a ton of pics of the new figures, playsets and more that will be finding their way to retail stores over the next few months. Maybe one of the coolest things on the docket is that Turtle Blimp.
If you're a fan of the toys from the late '80s/early '90s then you already know how awesome this thing is. If you don't, well, all you really have to know is that the airship comes complete with a gondola that can hold all four of the mean green teens and an actual blow-up dirigible that it hangs from. This was, far and away, one of my favorite Turtles toys as a kid and makes me smile just as wide as possible that it's seeing what basically amounts to a re-release; albeit one with a few improvements.
Other notables include a remote controlled cart that accommodates one Turtle and the zip line playlets that'll have TMNT characters zipping through the air and across the room. Of course, I'd be remiss too if I didn't at least mention the release of two of my favorite characters in plastic form as well: Casey Jones and Mutagen Man.
Casey looks exactly as he does in the new cartoon series, which is to say a bit younger than fans of the classic show might remember him, though still recognizable for anyone who knows the fiction. Mutagen Man on the other hand has seen almost a complete redesign from the old toy line. I'm honestly not even sure if this bag of goo ever saw an episode of the show (new or old), but I loved the classic incarnation for just being a really cool horrorish figure in the TMNT line. And good news, this one's looking just as gross.
So grab something to drink (yore going to be a while) and have a thumb through the gallery below. Everything you see here should be on the shelves at your local toy retailer some time this year.