Taking place in New York City, the Tribeca Film Festival has fast become one of the biggest events on the city's calendar every year. Now Games for Change, the gaming-centric charitable organization, will be adding their own show behind the event for more exposure than they've ever had before.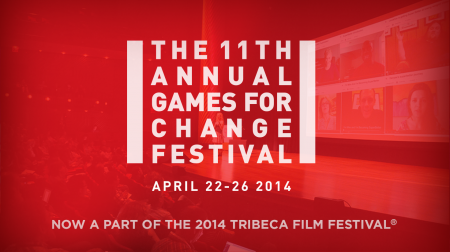 "Tribeca recognizes the transformative power of gaming that goes far beyond traditional entertainment value of games. The impact and integration has been spreading rapidly across virtually all domains. Of particular interest is how gaming has scaled to social good, from education to healthcare, and from conflict resolution to religion," said Craig Hatkoff, Co-Founder, TFF. He continued: "By partnering with Games for Change, we hope to bring together the most cutting-edge creators of games, educators, and the world's greatest story-tellers. Together, they will create the latest innovations in gaming for the social good to even wider audiences. We look forward to further expanding our relationship with Games for Change in the future."

"The new relationship with the Tribeca Film Festival is an incredible opportunity to reach a new audience for the 'games for good' sector," said Asi Burak, President of Games for Change. "Games are often discussed in the context of entertainment, but with this event, we'll be able to share our message that this medium can be very powerful in creating positive change in the world."
There's always plenty of talk about games as art, but it's not nearly discussed as much that games can carry powerful messages too- just like a film. That's a wrong that the Games for Change section of the TFF is aiming to fix when it hits the NYU Skirball Center for the Performing Arts as a part of the 2014 edition of the Tribeca Film Festival.
Games for Change will have a full docket ready for the event including an awards show and a showcase for some of the most interesting and thought-provoking titles coming to consoles and the PC. There'll also be an arcade that's open to the public, so if you feel like naming on some games and reliving those glory days of the quarter-munchers, you can do that too.
"Uniting game creators with others who believe in the positive social impact"  of video games, Games for Change is the largest gaming event in general to grace NYC. The installment, which has been around for some time now, most recently debuted an extended gameplay look at Beyond: Two Souls at last year's show and introduced the world to L.A. Noire back in 2011; so you can get an idea of why might be waiting to be shown off at that Showcase mentioned above. Now with the backing and association with TFF though, Games for Change is ready to be a breakout part of one of the largest entertainment festivals in the world.
The 11th annual Games for Change Festival will be held in New York City from April 22nd through the 24th of this year. Tickets can be had by clicking here.