Rovio's immensely popular (and seemingly everywhere) Angry Birds franchise is getting a comic book from publisher IDW.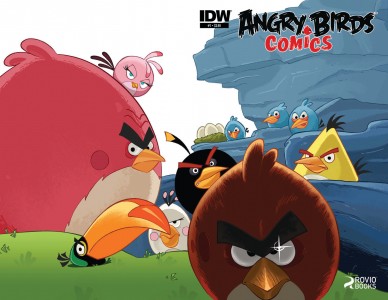 I can't say I'm a fan of the property exactly, having a few rounds of Angry Birds Star Wars as my sole experience with the game, but I'm more than in the minority on that one as the game is just about as popular as any mobile title can be- no matter the incarnation. In fact, I'd be kind of surprised if there's anyone who hasn't played AB at some point with the kinds of numbers that Rovio touts. All together and across all platforms, Angry Birds has been downloaded a staggering 2 billion times. And yes, to use an overused phrase, that's billion with a 'b'.
With that kind of success, it's no doubt that a company like IDW hopped on board the Bird train for a comic book incarnation of everyone's favorite cantankerous aves.
"We're very happy to be in business with Rovio on Angry Birds comics," said Chris Ryall, IDW's Chief Creative Officer/Editor-in-Chief. "Rovio has taken what was once a captivating game and built it into an interesting world filled with interesting and, uh, feathered characters who will make a perfect addition to our growing line of fun, all-ages comics."
Boks like Angry Birds were mainstays of the comic book industry years ago. I remember seeing plenty of Nintendo and Sega-themed comics pop up in the '90s (and maybe even in the '80s…), but while more mature properties have been seeing comic book translations become typical, stuff like Angry Birds (all-ages material) has seemingly become more scarce. I don't know if that's a symptom of the readers of those decades past simply growing up and the industry itself getting more 'mature' or what, but it's great to see a book tilted towards younger readers hitting the market as players of the game (of any age) are more likely to get into reading if their favorite characters are parts of the stories that are on the stands.
A nice little side-effect too, is that the comic will actually give deeper personalities to the birds in the game. These are characters that have never seen something like that, and that's a cool thing for fans of any age.
"The Angry Birds comics are a perfect way of getting to know the characters, their personalities, and their world more closely. I hope that readers of all ages will have fun with these comics by top-notch creators," said Jukka Heiskanen, Rovio's Editor-In-Chief of Comics.
Expect to see Angry Birds (the comic book) on store shelves this coming Summer from IDW.