A brand new horror comic anthology is n the works from the publisher for release this Spring.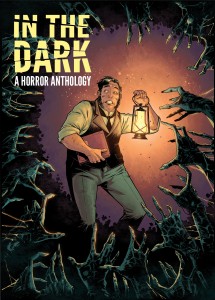 Fans of what goes bump-in-the-night, mark your calendars. Publisher IDW is forging a tome that you're going to want to read with the lights on with In The Dark. The massive book, which features 20 tales of the horrific, will feature some of the biggest names in comics in its art and scripts. No seriously, take a look at just some of the modern greats on the roster:
Justin Jordan
Cullen Bunn
Steve Niles
Duane Swierczynski
Tom Taylor
Tim Seeley
Brian Keene
F. Paul Wilson
Ed Brisson
Marguerite Bennett
Valerie D'Orazio
Paul Tobin
James Tynion IV
Nate Powell
Tradd Moore
Damien Worm
Tyler Jenkins
Drew Moss
Andy Belanger
Assembled by Anathema writer Rachel Deering as a Kickstarter project (originally) in 2013, the book successfully doubled its original goal of funding on the crowd-funding platform and is a labor of love for the scribe who's attraction to the horror genre of comic books goes way back.
"This book is the 8-year-old Rachel's dream come true. I wanted to make something that, had I found it on the shelves as a kid, would have been my favorite book of all time," says Rachel Deering, In the Dark editor and project manager. "I wanted to give this generation a chance to feel that macabre magic that held me spellbound when I picked up my first horror anthology comic, and I can only hope it serves the scare the crap outta readers, young and old, for years to come."
All in all, horror is a massively underrepresented genre in comics today. Back in the '70s and even the '80s, horror comics and spooky stuff was much more easily found from a bunch of publishers. Now though, maybe a handful of the larger comic groups print anything that would make the hair on the back of your neck stand at attention. Seeing an actual anthology like this one is a huge plus and not just for fans, but also for the comics industry that's become way more reliant on superheroes than ever before. And not that I have a problem with superheroes (that's actually my favorite type of comic), but diversity and having a range of choice is always better than being stuck with any one anything when it comes to entertainment.
The book itself will click in at over 250 pages of scares and will be bound in a hardcover format which should look great on the old bookshelf. None other than Batman, Superman and American Vampire scribe Scott Snyder will pen a forward to In The Dark and historian Mike Howlett will provide an 'in-depth' look at the history of the genre on the printed page as well. As for IDW's part in the endeavor; they're pleased as punch to be involved.
"Rachel has assembled an amazing team for In the Dark," said Chris Ryall, IDW's Chief Creative Officer/Editor-in-Chief. "I know well how difficult it can be to put together an anthology at all, let alone one with solid creative teams from front to back, and that is exactly what Rachel has done here. The book's successful Kickstarter campaign speaks to peoples' interest in this project, and I'm excited that IDW can help bring the book to an even wider audience."
There's no firm release date as of yet for the book, but you can safely expect to see it in shops this coming April. Just make sure your nightlight is working…