The name is the same, but that's pretty much the only thing that'll be familiar to fans about the all-new Ms. Marvel.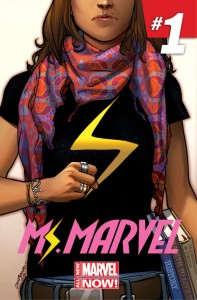 Ms. Marvel #1 continues the Marvel NOW! branding of the publisher's current line of books and character revamps. Fans probably know Ms. Marvel best as Carol Danvers, though her time in the role is a thing of the past. The long time Marvel hero who has actually held several super heroic identities recently was 'graduated' to the role of the much bigger Captain Marvel where she's getting all kinds of new attention and fans.
So that kind of leaves the Ms. Marvel position available- a position that the publisher's newest hero, Kamala Khan, is only too happy to fill. Not just a new face and a new female superhero (which is still kind of rare), Khan is of the Muslim faith. Aside from DC Comics' newest Green Lantern, I can't think of another Muslim hero in comics in general, a fact that makes this a particularly cool development.
"At her core, Kamala is just a 16-year-old girl, exploring the many facets of her identity when she is suddenly bestowed with super-human powers that send her on the adventure of a lifetime," says Marvel Comics Editor In Chief Axel Alonso.
The series will have an excellent pedigree too as Khan will be brought to four-color life by G. Willow Wilson (a multi-time Eisner Award nom and modern religious scribe) and artist Adrian Alphona, who's stint on Uncanny X-Force was a favorite. From the sound of what Wilson and editor Sana Amanat have cooking for the comic, Marvel-ites are in for a treat.
Series editor, Sana Amanat, states, "The inspiration for the new Ms. Marvel series stemmed out of a desire to explore the Muslim-American diaspora from an authentic perspective and yet, this story isn't about what it means to be a Muslim, Pakistani or American. Those are just cultural touchstones that reflect the ever changing world we live in today. This is ultimately a tale about what it means to be young, lost amidst the expectations bestowed upon you, and what happens when you get to choose."

Writer, G. Willow Wilson, "I wanted Ms. Marvel to be true-to-life, something real people could relate to, particularly young women. High school was a very vivid time in my life, so I drew heavily on those experiences–impending adulthood, dealing with school, emotionally charged friendships that are such a huge part of being a teenager." Willow continues, "It's for all the geek girls out there, and everybody else who's ever looked at life from the fringe."
Look for Ms. Marvel #1 to hit shelves this coming February.