Activision has been promoting Swap Force, the newest in the Skylanders series, for consoles for some time and now we finally get a good look at the 3DS version of the game.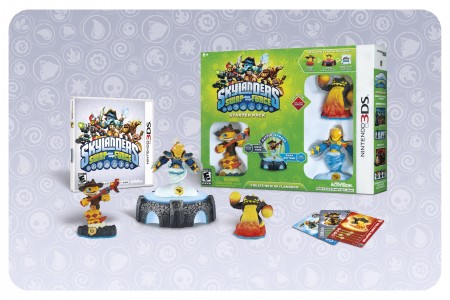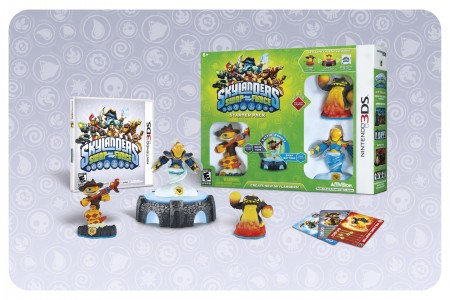 Much like both previous Skylanders 3DS editions, Swap Force features a unique storyline and different levels than it's big brother console releases. Swap Force will also feature a special starter pack that's unique to the n-space developed 3DS version which includes Rattle Shake, Volcanic Eruptor, and Free Ranger figures.
This time around the Skylanders are out to stop the nefarious Count Moneybone. Look like the Count's crashed a party in Flynn's honor (I know right?!) and made off with the Boomtown hero's pal Cali. A Skylanders tale that doesn't involve Kaos is definitely something new and would be a great way, going forward, to really differentiate the plots of the home and handheld versions of the game.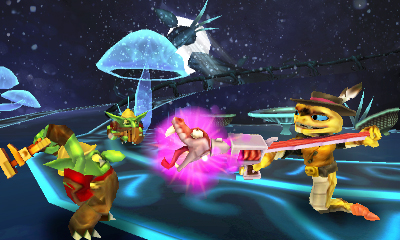 If you're a Skylanders super-fan, you're going to want to pick up both edition's of the game too as this pack, combined with the console pack, contains four Swap Force characters. That basically means that you've got 16 different possible character combinations right off the bat. Add to that the ten thousand figures that you have from Skylanders and Giants (What? You don't?) and you've got one heck of an in-game roster before you even get into the new Swap Force single-packed figures.
Activision promises that the 3DS Skylanders Swap Force game will play more like the console version too, which should also make fans happy.
"Skylanders fans have been very supportive in expressing what they'd like to experience in the Nintendo 3DS version of Skylanders SWAP Force, and we really took their input to heart," said Alex Peters, Vice President, Activision Production. "The game plays smoother and crisper than ever before, and with kids' collections becoming larger and larger, we were able to add more depth and gameplay variety than any other hand-held version of Skylanders."
Look for Skylanders Swap Force to swap things up on the 3DS at the same time as the the Xbox 360, PS3 and Wii U editions arrive- October 13th.