comiXology has officially kicked off a brand new digital-first series based on the Adam West and Burt Ward 1960's Batman TV show. (add comic book sound effects here)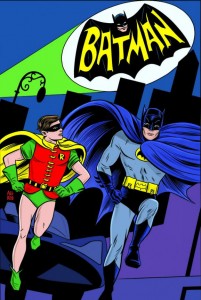 Batman '66 #1 comes from the DC2 line of digital comics and represents a brand new initiative from the publisher with a reading style that adapted to the format. DC2 layers content onto each panel through "artwork and sequences" to "expand the storytelling canvas". In short, each panel tells a tale all its own; something that sounds pretty impressive.
"BATMAN '66 is a great title to launch DC2 in that the fun, interactive features fit perfectly with the comic's dynamic action storylines," stated Hank Kanalz, senior vice president of integrated publishing and Vertigo, DC Entertainment. "In addition to producing a top-notch line-up of Digital First comics, we're focused on incorporating new and innovative digital experiences like DC2 that enhance storytelling."

"It's been great collaborating with DC on BATMAN '66 for the first DC2 release," said co-founder John D. Roberts. "Leveraging the unique abilities of our Guided View reading technology to push the boundaries of digital storytelling is going to be a huge benefit to the comic book reader and Batman fans around the world".
The Batman '66 series will feature the same bat-universe that was featured in the classic TV show and fans will recognize a slew of their favorite characters from the program. Even the first issue will be loaded with characters including the Dynamic Duo, The Riddler and Catwoman. And that cover work by Mike Allred fits it to a tee.
BATMAN '66 is inspired by the classic TV series and features many fan-favorite characters like Catwoman, The Riddler, The Joker and, of course, the dynamic duo of Batman and Robin. Written by Jeff Parker, the series features artwork by Jonathan Case and a cover art by Michael Allred. Readers will put on their go-go boots and get ready to "Batusi" back to the Swingin' 60s. The all-new stories portray The Caped Crusader, The Boy Wonder and their fiendish rogues gallery just the way viewers remember them. In the first adventure, The Riddler's out to steal valuable artwork from under the nose of Gotham's police force and Batman gets help from an unlikely source: a certain femme fatale dressed in feline finery.
Issue #1 of Batman '66 is available digitally now on comiXology and the DC App and readers can expect to see print editions (which'll contain three digital chapters) appear in stores on a monthly basis. The first issue of that should be on the racks on July 17th. Also notable is that non-DC2 versions of Batman '66 will be available for download through the Amazon Kindle, Barnes & Noble Nook and even the iBookstore.