A4Tech's newest mouse packs a punch with three levels of customization and 'ultra' high levels of sensitivity.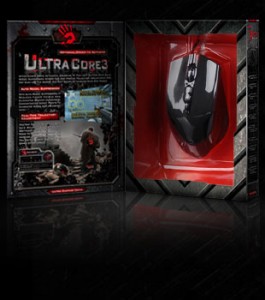 I wasn't really familiar with A4Tech's gaming-centric Bloody line before I sat down to play with the Headshot, but I came away from it impressed. I'm not a super big 'gear' guy and most of the time I just play with whatever's on hand at any given time. For several years, my main gaming mouse was actually a pretty basic wireless unit more at home clicking through spreadsheets than blasting through enemies on the virtual battlefield.
That said, there are certain things that just speak to you as a gamer. Whether it's insane levels of customizability, pinpoint accuracy, or just some pretty lighting effects; there are things that make us happy as we play. Happier than a 'vanilla' mouse ever could. The Headshot from Korean PC peripheral maker A4Tech's 'Bloody' gaming series is one such mouse.
One of the first things you'll notice about the Headshot is the build. Made with a really nice and grippy rubberized surfacing, this mouse has a great feel in your hand. Losing your grip on the body isn't something that's likely to happen even in intense gaming sessions either as the Headshot has some well placed niches built into the dual finger rests on the sides that hold onto the hand really well. The rests are fairly wide too and it's pretty unlikely that your fingers will drop off the sides of this one or drag across your mousepad.
On the underside of the Headshot, you'll find four easy glide pads that make the mouse dance across pretty much any surface that you can think of. Never once when I was using it did it feel sluggish and most of the time I actually had to make sure I wasn't gliding right off of my pad. That's not a bad thing by the way.
The Headshot is pretty well kitted out too in terms of functionality and buttons to press. Between the usual mouse 1 and 2, you'll find a very nice wheel that's clickable and nice and wide. It feels heavy and not at all flimsy – and it glows, which is just aces with me.
To the left side of the mouse's body there are a pair of forward and back (or whatever you'd like them to be) buttons. These are easily accessible in gameplay or standard desktop use and are just sensitive enough- which basically means you probably won't mistakenly hit them as you're playing a game with any negative effects.
Just to the bottom of the clickwheel is a strip of three buttons. These are your 'settings' switches and actually switch between 'gun 1', 2 and 3. These three setting choices have different functions depending on which of the three mouse cores is active at the time. Yes, I said which of the three mouse cores.
Core 1 is recommended for RPG's and RTS' while core 2 is for FPS. So what's core 3 for? Well, that's a little unclear as the documentation (and even the UI) is a little bit questionable and quite a bit mysterious as to what's what with option 3. It is called 'Headshot' though, which is the name of the mouse itself, and it's described as being suitable for "senior FPS game". So I'm going to assume that's to mean that it's for the 'pro' FPS fans out there who demand top accuracy.
It definitely feels a little bit different than the second setting, but I wouldn't say it's head and shoulders better. Then again, I'm not a pro-gamer so maybe I don't notice the difference as much as someone who plays games for a living would (kinda doubt that though).
As for that UI I mentioned, it's as easy to setup and use as you could possibly imagine. A simple download and install is followed up by the interface where you actually swap cores and assign functions to buttons. Just a note here- if Windows tells you that there's no mouse attached as you switch between cores, it's perfectly normal. The Headshot actually shuts down and restarts when you swap settings, so it's nothing to worry about.
Final Thoughts
For a company I didn't even know existed a month ago, I'm pleased as punch with the first product of theirs that I got to try out. The Headshot is a terrific little gaming mouse that delivers with functionality and aesthetics (did I mention it has a pulsing red glow like a starship engine?).
It's true that this is far from being the most tricked out mouse on the market, but it's also very far from being the most basic. I think for the majority of gamers out there, something like the Headshot is the perfect companion for long gaming sessions. It's comfortable, it has a bunch of cool little customization options and it looks cool. What's not to like about that?
Also worth noting is that A4Tech sent us a mousepad to use with the Headshot. Made with a nice fabric covering (which I really dug), the pad keeps a nice grip on surfaces with the rubbery back and is a good size to boot. It's a good quality mousepad and one that is a definite upgrade over most of what you find on the racks at your local electronics store. Plus, much like the Headshot, it looks cool with a big bloody handprint on the front.